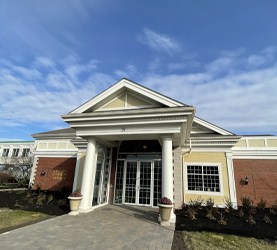 The holidays usually bring out the best attendance at these Devens shows – and not just because of the festive mood of the local collector base – show organizer Ernie Botte always advertises like crazy and gets the word out in a big way. So of course we figured it would be an especially busy show this time.
And our figuring turned out to be super accurate, since the place was jammed from about 9 AM on, with visitors of all sorts which I can organize in five general categories:
New collectors who came to the table and are generally attracted to the weird medals and tokens in our cases
Guys who picked out our choice toned coins and/or coins in Rattler holders with gold stickers on them, and then referred to their Greysheet for pricing which I instantly knew was going to end in disappointment for both of us
Serious guys who knew us online and came to the show to see the coins in hand (some calling us in advance to make sure we bring particular items)
Local collectors who collect the kinds of things we offer, but – and this is a real kick in the gut to our marketing department – had never heard of us before
Local (and occasionally national) dealers looking to buy and sell whatever is not nailed down
Of which we tend to do pretty well with those last three groups, as we did on this day writing 7 sales invoices for 16 coins.
Which in and of itself was terrific, though that was almost evenly offset by the quality of buying here which was amazing by Devens' standards and included some neat US type, a couple of commems, one Mexican coin, 5 CACed OGH gold coins(!) and, maybe most shocking to me, a super choice CACed Seated Dollar(!!).  A haul from which we picked out some cool ones and fanned them out in this delightful bourse case lid action photo: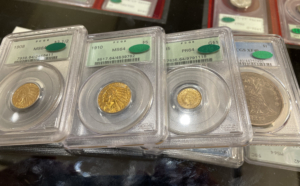 Making this an extreeeeemely productive day, albeit a slightly shorter one than usual since a high % of the locals seem to head out early to go watch the Patriots play whenever there is a 1 PM ET kickoff.  Which was sort of a shame this time, since it felt like there would have been a lot more business to do.
But that gave us a jump on Tuesday's EB which may include a few of these items if we can 1) Image them in time, and 2) Make then fit.
EOM