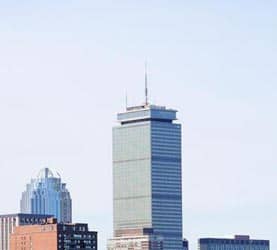 Put a positive fork in the Bay State Show, which ended Sunday after a fun-filled and very productive 4 days in downtown Boston.
This show was also, as always, host to the annual C4 (Colonial Coin Collector's Club) convention and thus is the one event each year when colonials are actually at the forefront (though all other specialties are represented to one degree or other).
We arrived at the Boston Radisson Hotel at about 4:00 PM Thursday in anticipation of the official start to dealer set-up at 4:30 and were stunned that we were allowed to actually enter the show early. They're usually pretty militant about their start times in Boston and in past years would have us all lined up in the tight hallway, packed like ticked-off numismatic sardines, with the door guarded until 4:37 by that small woman with the knife in her boot who appeared in the original 'From Russia with Love' and kept trying to kick James Bond in the shin: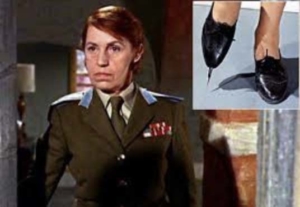 Until he fights her off using a chair like a lion tamer: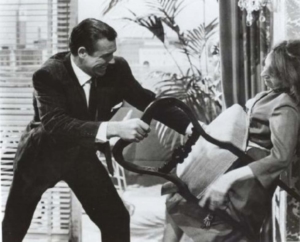 So of course avoiding that hassle put us in a good mood right off the bat.
Anyway, as has been well documented on this site in the past, the Radisson Hotel venue is an odd one, lacking the requisite large-sized function room filled with dealer tables. Instead, the Bay State Show is housed in a series of small rooms and intricate hallways which would probably be ideal for testing mice to locate hidden cheese, but which are ill-suited for accommodating coin professionals. We are lucky in that our regular table is in the middle of the main room, while some of our friends and colleagues are tucked in corners and are frankly pretty hard to find. And then we unloaded our stuff and hit the floor running, hoping to buy something new and really good before anyone else could see it. And buy we did.
Dealer set-up ran until 8:30 and was immediately followed by a C4 function which included some pleasant numismatic camaraderie, a hearty free buffet (including 2 XXL orders of shrimp cocktail that lasted just about 3 minutes before being reduced to sad piles of ice and discarded lemons), a well-stocked cash bar and an impromptu show-and-tell session of some of the coolest coins you might ever see in your life. How can you possibly beat that?
Friday and Saturday brought some moderate public traffic, including a lot of old friends and a few new ones, including many C4 members and a number of PCGS chatroomites, including a few 'regulars' who evidently attend EVERY show in America.
Interestingly, while our C4-tailored display included a heavier dose of raw colonials and esoterica than we would normally have at a more mainstream Baltimore or Long Beach type event, we nonetheless sold slabbed vs. raw coins in about a 5 to 1 ratio. That was surprising and would never have been the case a few years back. Slab momentum, no doubt. Speaking of which, lots of traditionalist customers who collect 'raw' colonials quizzed us about the slabbed colonial world, and we gave them our take on the similarities and differences between the two collecting styles.
The real buzz of the show was the discovery of a new and heretofore unknown New Jersey copper variety. Apparently it turned up in a regular old group of unattributed coppers recently, and was later identified as the previously unknown marriage of an existing obverse and reverse die. The coin was pretty low grade, but was nonetheless instantaneously devoured by a prominent specialist in the series at a price presumably well into the 5 figures, while other would-be buyers waited in the wings. That was a pretty interesting development, and we expect we'll hear more about the piece and its place in the series before too long.
Saturday night the show was capped off by the 11th Annual C4 Auction. Open only to C4 members, the sale was conducted by McCawley-Grellman auctions (of EAC fame) and skillfully cataloged, as usual, by dealer / researcher / all-around good-guy Tom Rinaldo. There were some 670 lots, 100% raw, including colonials and esoterica, with items ranging from less than $50 to at least one tipping the scales at $13,000 hammer. Pleasantly, the buyer's fee at the C4 auctions is just 10%, which is both welcome and nostalgic. In all, we found some nifty coins on the floor and in the sale, including colonials to gold, which we will endeavor to have photographed and on the site within the next few days.
Our next scheduled show is not until 2007 at FUN in Orlando, though we won't exactly be kicking back until then. We have several trips planned to see some collections and view upcoming auctions lots both here and in Europe.