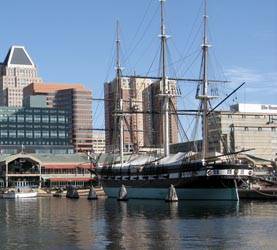 This time the Baltimore show was pretty much like every other time: Good. Very good. In fact, it was better than we thought it might be.
We saw some interesting sights, sold a whole bunch of stuff, bought some cool coins, bid enthusiastically on high-end material in the auctions, tried to get a few coins graded and ate very, very well.
What did we see?
Miles of dealers' tables, possibly more than we've ever seen on one floor of a bourse, spreading out almost as far the eye could see sort of like that scene at the end of the original 'Raiders of the Lost Ark' when the Ark of the Covenant is placed in a wooden packing crate amidst a gazillion other wooden packing crates as the camera slowly pans back: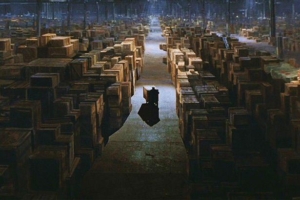 Yes, it was like that.
There was no shortage of coins to buy, ranging from starter coins in 2×2 flips to the monster rarities, all manner of foreign coins and medals and, as usual, a whole bunch of stuff that 1) I had never seen before and 2) could not identify. Interestingly, there was also one table set up from a company which was selling replacement windows. I'm not sure if they had accidentally stumbled into the wrong room, or possibly were at the convention center a week early, but there they were.
We also witnessed a thwarted robbery a few rows over, where some guy attempted a snatch and grab and instead ended up in a Half-Nelson.
This was notable in that it was accompanied by loud yelling which froze the rest of the room in its tracks, had coin dealers running over for a look at a speed heretofore reserved for the buffet line at a Heritage auction, and even had one middle aged dealer standing precariously on his rickety booth chair for a closer look.
What did we sell?
Over the counter we sold about a dozen colonials, ranging from mid-range raw coins to a wildly rare and obscure French Colonial piece, a number of $2,000 – $10,000 19th century type coins, a neat Clark Gruber & Co. Mountain $10, a high-end 1854-D $3 Gold and other assorted stuff.
We also consigned some coins into one of the auctions, as we nearly always do. These were coins that we took in trade and didn't think we're good enough to put on the site. Normally we reserve this sort of material at a low level and just try to make it go away and, generally speaking, it does. This time, in several instances the coins sold for significantly more than our reserves – in fact, they sold for a fair amount more than we would have thought to ask for them. What that tells us is that 'schlock' – the ordinary and inferior coins that make up the overwhelming majority of every coin auction – did pretty well this time around.
To us, this is a more informative statement about the market than are the prices realized for the spectacular rarities which had been off the market for years in the same session. Those kinds of coins always seem to sell strong (see below).
What did we buy?
A wide range of colonials and esoterica, ranging from a $200 raw Dutch coin to several mid 5-figure registry type colonials, a very fresh group of Morgans and some assorted tasty mint state and proof gold. In all, a great mix of coins, most of which will be finding their way to our site before too long.
What did we bid on?
Plenty of things in the Archangel and Norweb sessions, though we were largely swamped by other bidders who had apparently decided to spend whatever amount was necessary to secure some of the choice pieces being offered. The coins were consistently very rare and very fresh, which is a powerful combination at auction these days – even though the quality was somewhat spotty.
The Norweb session in particular certainly ignited some enthusiastic bids:
Lot 2019: The 1791 Liverpool Halfpenny in white metal sold for a 'fall-off-your-chair' inducing $103,500 to a specialist who evidently really, really wanted it. This was an interesting item – unique, off the market since the 1950s, plated in Breen and known to exist, but never seen by the majority of the current generation of collectors and dealers. Bidders included a couple of specialist collectors, a few dealers speculating, and a couple of new players just looking to buy something cool. We figured it pre-auction at about $40,000. We were wrong.
Lot 2021: The 1792 Washington Roman Head Cent in PCGS PF66 sold for $132,250, a new record for the issue by a factor of 3 (three). We had been asked to predict the price of this item prior to the sale by a colleague and answered that 'it should be around $70,000, but any number is possible'. I guess the 'any number' won out.
Lot 2127: The curious and esoteric-even-for-esoteric-items 1818 Washington Market Chowder Club medal, one of two silver examples definitively known to be in private hands, realized an amazing $48,300. That's just about 4 times more than the slightly inferior 2nd example brought at the Ford sale in May of 2004 – which by now certainly seems like ancient history.
In general and, as always, the sexiest coins went extremely strong. It remains to be seen which of these will turn out to have been wise purchases and which were burials – with the final result sometimes not being discernible for years to follow. But as a wise collector once told me, if you can afford them, and you don't plan to sell these coins, then it probably doesn't matter how much you pay.
What did we get graded?
As it turns out, not very much. PCGS was so swamped that they shut-off on-site grading at end of day Thursday (except for the $200 level, which we didn't use). In all, this put a serious crimp in our style. We normally do most of our grading at shows where it's generally easier and faster – now we'll be making several submissions by mail this week.
Apparently, NGC was similarly busy but we did not submit to them and heard this only second hand.
And finally, what did we eat?
Sure, we had a crab cake or two, but we spent most evenings over at Pazo, a Mediterranean restaurant a few blocks away from the convention center with some incredible Tapas. If you like that sort of thing, I'd highly recommend the spiced veal and pork empanadas with a salsa verde.
Our next stop will be the Boston Show and Colonial Coin Collector's Club Convention in a few weeks, which is always a highlight of the year for us.
Until then –
JA