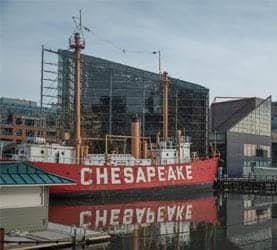 Prologue:
All of a sudden we're back in Baltimore, again, for the last of our three (3) annual numismatic visits, this typically the biggest and best of them and including the annual meeting of the Colonial Coin Collectors Club (C4).
And we expect no shortage of activity here, with a large and interesting Stack's-Bowers auction, a wide range of dealers, the typically excellent local collector attendance and a plethora of buying and selling opportunities .
With Team CRO in our regular spot near the door, bringing many new, never before seen coins and our usual desire to do whatever business buying, selling or trading presents itself.
And then describing all of it, as always, right here in this spot each and every morning of the show.
So you might want to keep and eye out for that –
November 8th:  Day 1
Our first full day in Baltimore would be a pretty productive one, as we were up early to answer customer emails, confirm a couple of new purchases and review upcoming lots in the Stack's-Bowers auction with collectors we'll be representing there before having a quick breakfast in the room.
After which we zipped over to the convention center to re-review a few lots of interest before turning our attention to the wholesale rooms, where your author pored through 25 boxes of coins in order to find a grand total of three (3) that screamed CRO.
Then heading back to the hotel to drop off a couple of coins at PCGS where we serendipitously bumped into a dealer friend who had a cool old-holdered coin with him which we bought right there in the room moments before it was about to be resubmitted. Phew. That was close.
Then had lunch before returning to the convention center to meet up with a series of other dealers, schmooze extensively, look through more boxes, elegantly avoid participating in a brief but surprisingly intense argument about whether or not some high-priced coin was tooled and then eventually got ready for my appointment with a world coin dealer to review their latest findings from Europe.
From which we snagged a few more coins before meeting one more dealer friend and then heading into the Stack's-Bowers auction of tokens and medals at 5 PM where we bid on a few things and bought only one in a session that seemed very (but not unexpectedly) strong.
Leaving after a hundred lots or so to meet up with some dealer friends at the Hilton for an excellent and very entertaining dinner before heading back to the hotel to get some rest and be ready for the bright and early start of dealer set up at 8 AM on Thursday.
Until then, then –
November 9th:  Day 2
Team CRO was on the move at 7:30 AM on Thursday, arriving at the convention center, getting our bags from security, having a delicious granola bar breakfast in the lobby and then joining the wildebeest-like herd of dealers as they narrowed from a teaming mass into a single file line in order to squeeze through the narrow bourse room door (including the guy directly ahead of us who was attempting to push a cart with his 34" long show cases oriented horizontally through the 32" wide opening).
Not surprisingly, that didn't work very well, forcing Team CRO to dart ahead of him as he gummed up the line for everyone else sort of like those guys you see in the airport TSA line who still don't know that you can't carry a typewriter through the metal detector.
Anyway, once inside we quickly set up the CRO booth, hung the banner, switched on the lights and promptly declared ourselves open for business before pretty much anybody else at 8:17 AM.
Which was still not fast enough for the collector who swung by asking to see some coins at 8:05 just as your author was sprawled on the floor plugging in a power strip.  Patience my good man, patience.
But soon after I did produce those coins, a check was written and the first of many nice deals on this day was completed. In and around your author making his usual sorties around the room, instantly buying two cool, raw world coins from a guy just laying them out, then two ancients(!), a killer SLQ, a fantastic Barber Half and a dozen or so others from many different dealers during the course of the afternoon.
Plus a few more that came to us at the table, some individually, others in groups, and a bunch later in a collection we are considering buying in toto.
But the most interesting activity during the day was undoubtedly a potential heavyweight trade we considered (and are still considering, actually) of several coins and cash toward a big ticket item we own with another dealer.
Which required us to evaluate several epic raw coins on the fly while fending off the prying eyes and frankly boorish behavior of some other dealers who 1) Didn't take the "This isn't a good time" hint very well, and 2) Think any group of 3 people in a serious discussion is their signal to interrupt and tell a joke.
Fortunately, your author is a very patient person and was thus able to resist the urge to leap over the table and throttle said dealer. I'm positive a few others would not have shown such restraint.
After all that, we bought a few more coins on the floor, sold a neat world coin to a long-time collector friend and then picked up our lots from the Heritage Dallas auctions last week, which always look a little different when you see them after the fact, creating a numismatic-Christmas morning effect replete with oohs and aahs.
Then selling a couple of those coins right away even though we really don't like to do that, but in some cases we figure what the heck, a bird in hand and all that.
With the day winding down after that as we eyed the Stack's-Bowers evening auction and then headed out to dinner with some dealer friends at a cool place we hadn't been to before called The Black Olive, which was a delightful departure from our habit of going to the same places over and over every time we come to this city.
And then turning in right after in anticipation of a busy Friday during which we expect more bourse floor buying and selling in and around the Stack's-Bowers sessions during the day and at night.
With all of the exciting results of our endeavors to be posted right here in just about 24 hours from now.
EOM
November 10th:  Day 3
Kind of a rough night on Thursday as your author slept maybe 3 hours, and not in a row.
So by the time we were back at the convention center on Friday AM I was already tired and facing a looooong day of coin dealing activity.
Which would start almost immediately with the analysis and pricing of a raw colonial variety deal that took some time but was well worth it (since we were able to buy it a couple of hours later before any competing dealers could sink their teeth into it).
And then continue on unabated for, oh, about 9 hours with a steady stream of collectors and dealers visiting the table to buy a coin (or, in one case 6) or sell us one (or, in another case, 5) or consign coins for us to offer on the website or give to one of the auction houses at our favorable dealer consignment rate.
With the related stack of invoices growing quite high on the back table, ditto the checks, and especially so the coins, with those now segregated into groups destined for photography, or CAC, or grading, or auction, or Ebay, etc. In other words, it was not dull and it was almost totally productive (with nearly all the time we spent in discussions and negotiations leading to actual commercial activity.
And even when it didn't, it was still interesting, like the customer in the afternoon who stopped by to show us the coin he had recently metal detected nearby:

That's a genuine 1652 Pine Tree Shilling, Large Planchet type, Noe-8 variety, with what I would call XF details, some environmental damage, but looking absolutely respectable for ~350 years old.
With the day capped off at the Stack's-Bowers evening session where we purchased a few coins for stock and successfully represented a few customers to buy some NJ coppers for a bit less than they were willing to pay.
So I'd have to call it a win-win-win situation, including dinner at the Kona Grill where the hot sake flowed freely and the incredibly spicy sushi dishes there were most welcome on what had suddenly become a downright wintery night.
After which we turned in kind of early so we could be ready for Saturday here during which we have a million loose ends to clean up, deals to conclude, checks to collect and, we hope, a few more new deals to do before the end of the November Baltimore Expo, 2017.
Whatever happens, we will be writing about it from the comfort of home on Sunday AM.
Until then, then –
November 11th:  Day 4
Great news everyone – we're going to summarize the now completed Baltimore Expo in a series of utterly random observations presented in no particular order whatsoever:
We're still refining the optimal show presentation in terms of total number of coins shown, frequency of changes made during the show and whether we should present brand new coins right away (instead of holding them back for the next EB list). My wife thinks we should have done more of each here; I think she's right.
Unplanned, unexpected deals we brokered at this show (where another dealer says "Hey, I'm really looking for an XYZ", we just happen to know where a nice XYZ is and can thus go get it and make a deal): 3.
Late in the afternoon Saturday a collector asked if I could send a coin to CAC for him. I said yes and he handed me a just-purchased item that I could tell right away had no chance to be stickered. In such cases I always explain why it won't sticker and how sending it in will not be worthwhile, and usually the person listens intently and agrees with (or at least understands) my assessment.  But I sure do wish people would ask me about these coins before they buy them.
We received many trade proposals at this show and considered all of them (except a slightly unusual one where a customer proposed to trade us a coin that didn't meet reserve in the Stack's-Bowers auction since we had no way to view that coin at that point). In total, we batted .500, though technically one of the unconsummated deals is still possible. I guess.
Total number of raw coins we purchased at this show:  25, which is kind of a lot.
I found a really cool coin on the floor Thursday, the dealer quoted me a price, and I agreed to buy it, but (as is fairly typical in wholesale transactions) I planned to go back, deliver a check and pick it up later.  But before I went back, another dealer saw that coin, learned that it was already committed to me and then proceeded for the next 2.5 days to attempt to convince me to sell it to him.  Now, I knew the coin was nice and would be perfect for the site, and I had no intention to sell it in a quick flip to another dealer, but this other party was so aggressive in his pursuit I found myself trying to figure out what his angle could possibly be.  Finally, late Saturday, I consented and said make me an offer and I will either pass or play (i.e. no negotiations), at which time the other dealer threw out a number which was less than I paid.  So that was the end of that.
I don't think we're going to get rich doing this auction repping thing, since my advice to one customer was that none of the coins he asked me to look at were good enough for him, and of course we don't earn any commissions unless he buys something.  But they really weren't good enough.
A dealer in the world section had a 4 foot long bronze sword at his table. Cool item, though maybe not ideal if you travel to shows by commercial airliner.
Auctions here in Baltimore are waaaaay easier to manage now that we've been using the Stack's-Bowers app. We used to have to turn down those dinner invites so we could sit through the live sessions, but now we can go out on the town with our dealer and collector friends taking a moment or two to bid when the time comes.
I've noticed through the years that if I eat lunch anywhere near the front of our show booth, every single person who walks by will make a snide remark about my choice of cuisine, regardless of what it is:
Lunch:  Granola Bar
Snide Remark:  "Is that a candy bar?"
Lunch:  Anything nice on a plate with silverware
Snide Remark:  "Ooooh, look at Mr. Fancy Pants."
Lunch:  Cheeseburger and Fries
Snide Remark:  "Wow, are you going to eat all that?"
Lunch:  Salad
Snide Remark:  "Did your wife make your order that?"
Etc., etc.
Conclusion: It's way better to eat at the back table.
We were offered a total of 9 ancient coins at this show by 4 different people. I find that surprising, since we don't specialize in this area and have not made it known that we are on the lookout. Of course if they are cool enough, we're in!
And now, back home in New England, it's time to sort through all of our NEWPs and get cracking on our next Early Bird which will be out on Tuesday, but not before we take about 6 hours of R&R, starting right now.
The End