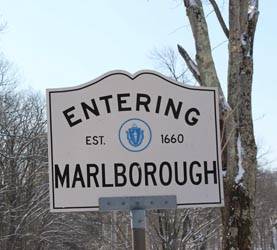 November 9th:  Day 1
Although I kept thinking it was Thursday, and I did get lost on my way to the show, I did eventually find my way to something called the "Best Western Royal Plaza Hotel" in unfamiliar Marlborough, Massachusetts, walked in the door, and stood in the line to collect my show credentials.
Things went downhill quickly, though, when the elderly dealer in front of me in line, who was apparently explaining something really important to show promoter Ed Aleo, made a grand, sweeping gesture with his left arm and inadvertently karate-chopped your author directly in the throat.
After receiving a series of apologies, I entered the bourse floor, artfully set up the CRO table with 1 case of delicious federal coins, 1 case of colonials and a 3rd case filled with world and esoteric coins of all sorts, locked everything up and then toured the room at high speed seeking cool NEWPs.
Of which I found a few in the federal and world categories from dealers I have not purchased from before, which is sort of the ideal circumstance, and frankly one of the primo reasons I like to attend regional shows like this.
Another reason I wanted to come here: The chance to meet local collectors, many of who came to the table during the course of the day.  Some were people I have worked with before via email and phone, but others were totally new to CRO, allowing me to distribute a big pile of business cards and, I hope, attract some new frequent visitors to the site.
I did not meet everyone though, including one apparently novice collector I overheard as I was walking around the room asking another dealer basic questions about colonial coin collecting and colonial reference books and receiving, IMHO, some extremely bad advice and flat-out incorrect answers.  Of course I did not interject, as that would have been a serious violation of coin dealer etiquette, but I sure wished the collector had asked me.  I chalk this one up to the general inefficiency of the numismatic marketplace, where even a guy who attends a show seeking a specific coin or information may not know where to find it.
Anyway, I also sold a few coins during the day, including a brand new and totally wicked Indian Cent that never made it to the website.
I pondered a few other coins which I probably will buy on Saturday, and then had a fabulous local sushi dinner with some guy named Dave Wnuck where we got to catch up on a variety of numismatic and totally non-numismatic family-related topics.
Saturday we'll be back bright and early and will try extremely hard to buy and sell more cool coins.
EOM
November 10th:  Day 2
I cannot say that any new CRO sales or purchase records were set on Saturday at the Bay State Show, but some good things did happen:
We bought a spectacular AU Pillar 8 Reales in keeping with our strategy of offering the largest inventory of choice, original and attractive certified examples, in a variety of grades, anywhere on the web.
My 17 year-old son came and assisted me at the table and said (and I quote) "it was fun". I'm serious.
No one karate-chopped me in the throat.
It was genuinely crowded in the room, more so than I can recall in previous years at the Boston location.
There seemed to be business taking place, though the specifics I heard or saw were mostly at lower price points and in raw coins.
I met a few more new local collectors.
We sold enough to make coming here worthwhile, though I would bring a different inventory mix next time better tailored to this venue.
I worked out a cash and trade deal for 3 coins in our inventory which I will consumate in Baltimore next week.
By being here, I was able to make sure, first hand, that I did not miss anything really good (which I think is true in this case, though I cannot be 100% certain since I was in NY Thursday and therefore could not attend dealer set-up).
We will definitely be back next time.
And now we are going to rest up and start getting ready for what figures to be a spectacular, action-packed and thoroughly exhausting Baltimore Show from where our next RR will be posted, right here, as shockingly soon as this coming Tuesday.
So you might want to keep an eye out for that.