October 16, 2007: Stack's Ford XX and XXI and 72nd Anniversary Auction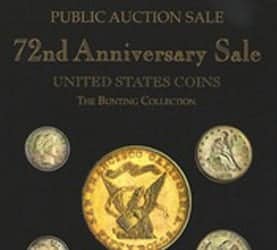 Part I:
(Silence).
That was the sound of us trying unsuccessfully to hoist our bidding paddle in the air at what was, apparently, the last and final evening of John J. Ford auction sessions at Stack's.
Up for bid this time was a mix of great (and very esoteric) 'Western Territorial Americana' which, like most everything in the Ford Collection, had been off the market for ages and was thus numismatically as fresh as a daisy. And, as is seemingly the case whenever fresh material is sold, the 'end-users' (dealer parlance for collector as opposed to dealer buyers) were out in force.
And the bidding reflected it, with prices ranging from the merely very, very strong to the frankly absurd at some points. I particularly enjoyed watching bidders jump the bids in ever greater increments on some lots, proving yet again that there is huge demand for the rare and unusual, especially when it is masterfully cataloged.
My favorite lot in the Ford sessions was the Cincinnati Mining and Trading pattern $20, struck in copper. This dramatic and extremely rare coin sold to a serious collector friend of ours for $149,500.
But the the 'souvenir hunters' were also active in the sale, as common tokens worth $20-$80 at most coin shows were selling for multiples of that at $850 – $1,400.
After detailed calculations and a re-review of all of our bids, our final tally was one (1) lot in both Ford auction sessions combined. Quite a haul.
But there was still hope for us, as the sale of gold coins followed the two Ford sessions as part of Stack's 72nd Anniversary offering, making for a very, very late night. And after the Ford lots were concluded, the bidding frenzy abated somewhat, but the sale was still very strong:
The well-worn 1848 CAL Quarter Eagle went for just 100% over Greysheet at $28,750.
The beautiful (and most of the dozen or so known specimens are not) 1855 Kellogg $50 in PCGS Proof-62 sold for a healthy $460,000 to an East Coast dealer.
The cool 1906-D $20 in PCGS SP66 sold for a cool $172,500.
But while the fancy stuff is fun to look at, the prices realized by the more pedestrian coins in the session are a better gauge of the market, and they too were robust to say the least:
Prices on 'ordinary' gold coins (i.e. accurately graded NGC and PCGS slabbed coins, but not the premium quality specimens) were approximately 20-25% over this week's Greysheet price levels, while the dreck (i.e. coins that were optimistically graded, and that make up the majority of nearly every coin auction these days) sold for a very strong 10% over Greysheet bid.
We did a little better in this session, buying six coins which we felt offered a nice combination of price, value and, of course, originality.
In all, the combination of high attendance (due to the Ford auction) and rising bullion prices made for a bullish night in the coin business.
Part II is tomorrow, so we'll be back at you as soon as that session concludes.
Part II:
Just like the first day, the second and final day of auctions at Stack's this week was well attended and most everything was bringing strong money – including the three marquee coins in the sale:
The 1894-S Barber 10c in PCGS PF64 was (like the others to follow) fresh to the market after residing in a collection for 23 years. It opened at $990,000, and then sailed along with four bidders vying for the coin above the $1 million level. The audience burst into spontaneous applause as it hammered down for $1.35 million (that's $1,552,500 including the 15% buyer's fee) to a New Jersey dealer on a cell phone representing a client.
Just a few lots later the 1876-CC 20c in PCGS MS64 opened at $225,000 and then climbed in unusually small (for this lofty price level) $5,000 increments. The battle would ultimately be between a two dealer team and a phone bidder represented by another dealer, with the phone ultimately taking it at $305,000 hammer (that's $350,750 with the juice). Followed by more applause.
The final great rarity of the night was the 1870-S Seated Dollar in pleasing raw Very Fine condition. It opened at $200,000, increased in $20,000 increments to a phone bid of $460,000, paused briefly at that level, then hammered down at $480,000 (that's $552,000 with the juice) to a pair of dealers. And, for the third time during the evening, applause rang out in the Penthouse of the exclusive Le Parker Meridien Hotel which, by the way, boasts a million dollar view of Central Park (that's a $1.15 million view if you include the juice).
And while we get a kick out of seeing these sorts of mega-coins sell, we were frankly more interested in the fresh collections of Seated coinage in the sale – all raw, in denominations from half dimes through dollars. Only rarely do you get the chance to select from basically a complete run of dates in these series, many choice and unmolested, and the bidding reflected it. There was extensive activity from collectors and dealers alike, on the floor, on the phone and via the internet – as well as from your intrepid author Dave Wnuck, who picked up a nice group of fresh, original pieces for our inventory.
It was a good sale overall with a much higher percentage of fresh material than you typically to see in auctions these days – so my hat is off to Stack's for making their 72nd annual Anniversary Auction (that's a pretty good run by most any measure) a most memorable one.