October 17-18, 2006: Stack's Auctions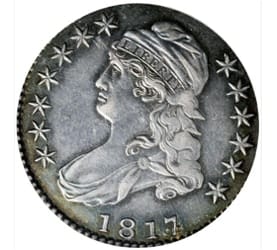 I packed up my lot-viewing psyche, my loupe and halogen lamp, my 'What would PCGS grade this thing?' prognostication hat and trucked on down to New York for the impressively diverse series of auctions at Stack's this week. And I would need them all, as there were 3 sessions held over two evenings as follows:
The Buddy Byers Collection of Half Dollars
Mr. Byers evidently collected half dollars with an eye on completion, I guess, because it sure wasn't based on uniform superior quality. Some great stuff was included though, including these three highlights:
The famous and unquestionably finest known 1817/4 Half Dollar ex-Eliasberg sold for $310,500, to a collector/dealer friend of ours. That was exactly $23,000 less than Mr. Byers paid it for at auction in November of 2004, proving that not every coin increases in value, even in an up-market.
The 1853 No Arrows/Rays in PCGS VF-20 sold for a healthy $368,000.
The 1838-O Half in raw Extremely Fine brought $253,000 (with these last two coins both going to the same serious collector of US Rarities).
In general, prices were all over the map at this sale.
As noted, the Byers' collection had some wonderful coins, but a lot were wiped or even harshly cleaned, and many of these raw items were, in my opinion, likely 'body-bags' at either of the two main grading services.
The Byers sale also had several purported early proofs. These were humorously termed "New York Proofs" by a Midwestern specialist dealer at the sale, suggesting that these items might only be considered proofs by the New York based cataloger, while the grading services and the specialist community might not agree. It is worth noting that such 'purported proofs' appeared in a number of famous sales of the last generation, including Eliasberg and Norweb to name but two, with many of these pieces subsequently slabbing as 'mere' MS at the services.
Nevertheless, these Byers' examples sold in the $25,000 range – cheap for a "real" proof, but way too much for a proof-like business strike. Time will tell how many of these 'lottery tickets' will pay off for the winning bidders. We'll guess not too many.
The John Ford Peace Medal Auction
The latest installment of the long series of Ford Collection sales took place this week as well, this being Ford number 16 (or is 116?). This time we were treated to the finest collection of peace medals ever assembled.
Peace medals are an interesting area, with a comparatively small but very serious collector base.
Each and every original silver peace medal is a tangible, "touch-able" part of American history, and they are often collected by crossover collectors such as those involved in Early American Antiques and Americana. In fact, purchases by museums and other institutions often make up a significant portion of auction buyers of these items.
US Peace medals range in value from a few thousand dollars for the most 'common' up to low to mid-six figures for the finest and most desirable. The Ford sale was memorable not only for the number of medals but also for the extremely high levels of preservation of many of them. The sale offered opportunities to savvy buyers to purchase medals in nearly unheard of high grades for not much more than what examples in typical (i.e. beat-up, damaged or badly worn) condition tend to bring.
The three highlights of the Ford sale of Peace Medals were the Montreal Medal of 1760 – the only specimen available outside a museum – which sold for $155,250, and the best three of the four Jefferson Peace medals. The magnificent large size Jefferson Peace medal sold for $189,750, the middle size Jefferson went for $184,000 and the small size Jefferson sold for $172,500. All four of these sale highlights opened and closed to the book at those high levels – presumably to the same person.
Overall, the prices were steady, but were not characterized by the feeding frenzy and wild bidding that sometimes occur when such landmark collections are sold at auction.
The buyers we spoke with were quite satisfied with the value they received – ourselves included on the three pieces we acquired.
Stack's 71st Anniversary Sale
Finally, the 71st Anniversary sale was billed as Stack's 'Finest Sale of the Year'.
There were some nice coins, but once again the quality was highly variable in this mostly raw session.
As for the highlights, we were the underbidders on a magnificent raw 1793 Wreath cent billed as 'gem uncirculated' (and looking every bid of that) at $172,500. That coin was pedigreed to several significant auctions in the past at which it was always described as a high end unc. and always sold for high end unc. money. So there wasn't a lot of guesswork about this one.
There were a few raw early proof large cents which made a reappearance at Stack's and sold for less than they did a few short months ago in the Spring 2006 Northern Bay auction. Actually, that did not surprise me, as the earlier prices seemed 'highly speculative'.
The finest gold coin in the sale was a raw and original AU 1795 $10 nine leaves variant. It found a buyer at a very strong $276,000 and is destined for a Mid-Atlantic collection. There were occasional points of weakness in the sale. For example, a 1927-S $20 in a PCGS MS-63 holder sold for $46,000 all in, compared to a Greysheet wholesale bid of $54,000.
And thats the story. If one is looking for a common theme I guess it would be that quality was all over the map, prices were strong but not crazy, and, in a few notable instances, coins sold for less than they did when offered in the last several months or years.
My take overall is that these sales tend to be filled with great coins, good deals, 'trap' coins and burials. The trick, as I've stated before, is to know which ones are which.
DW