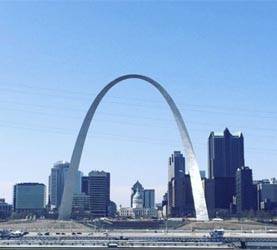 While Dave was in New York looking at all of the cool, rare and high-end stuff at the various Stack's auctions this week, I was in quiet St. Louis. I packed up early Thursday morning and jetted off to the Silver Dollar show, which was aptly named, in fact, as I saw quite a few silver dollars there.
I was interested to attend this show for a few reasons:
I thought we might have a chance to buy a few new things from some sources we don't normally get to see.
It was an opportunity to view the Heritage lots for next week's auction in a venue where I could get some other work done.
I wanted to have some coins graded at PCGS so we would be ready for Baltimore.
I figured it would be an opportunity to visit the one US landmark that I have never seen – the Gateway Arch. 40 years of traveling all over, driving across the US no less than 10 times, living east, west and in the middle and never once had I been to downtown St. Louis.
I can report to you that I did view the Heritage lots and did get the grading done. I failed miserably on number 1, seeing only a single coin that had me temporarily reaching for my wallet. Alas, I wasn't really close to buying it.
Even so, I was closer to buying that coin than I was to seeing that darned Arch. The show was in St. Charles, some 26 miles from downtown (according to my extremely knowledgeable cab driver), and thus too far to visit without shirking my coin responsibilities. And I am a non-shirker.
Anyway, the show was a dud. Very quiet, very little retail traffic. A smattering of mostly national dealers. Nothing in our areas of interest that was too new or fresh.
Heritage had a long series of tables to accommodate lot viewers, but I would say there were but 4 or 5 of us at a time and no real delays getting whichever box you needed.
Ditto the Scotsman auction viewing, which was conducted in a series of adjacent tables. A smallish catalog of coins to view, no waiting, and a large can of peanuts to entertain the viewers.
I dare say if PCGS was not there doing on-site grading the traffic would have been even less. Maybe much less.
On a more positive note, I did get to meet a few people I have only known via the PCGS chatroom, and I sold 100% of the coins that I brought with me to sell – one.
And that was it – two quick days, a few things accomplished. Pretty sure this show will not be on our schedule next year.
And I guess that darned arch will have to wait.
JA