October 19, 2005: Stack's Ford XII Auction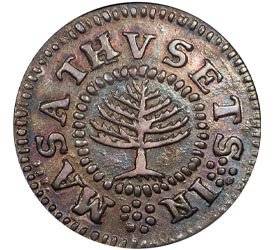 Wasn't it just yesterday I was sitting in a cramped room breathlessly waiting for Ford I to begin? Actually that was 2 years ago. And so there we were Tuesday, 2 years and a long, spectacular procession of Ford coins later, waiting for the much anticipated Mass Silver offering to begin.
And it didn't disappoint – representing the most complete and finest collection of Massachusetts silver coins ever assembled and illustrated in what surely must be the finest catalog ever produced. Kind of a celebration of coins, sort of.
So anyway, the fun began at lot viewing, which was simply amazing. I remember distinctly holding all 7 of Ford's Higley's in my hands back in May 2004 which was pretty cool, and here was the similarly once-in-a-lifetime chance (I assume) to hold 4 New England Shillings at once. I did however resist the urge to roll around on them.
The sense of anticipation in the auction room was palpable as the crowd filed in. And in. And in. Totally filling the room until it was SRO throughout the sale. Surprisingly, not all of the usual colonial suspects were there, but for this sale they had been replaced by some non-colonial guys, mainstream dealers and a host of others all frantically waiving bidder cards.
The 4 NE Shillings were first and started strong. All 4 coins were very nice representatives of the type, all hammered at $220,000 – $300,000 and were purchased by or on behalf of 4 different collectors. So don't expect to scoop one up on the secondary market.
The Willow Trees were very strong as well going to collectors and dealers alike and culminating with lot 12, the amazing Willow Tree Threepence, the single most expensive coin in the sale at $550,000 hammer. And so it went – very strongly through the Oak Tree series with the best example of each shilling type registering prices multiples higher than seen at the Hain sale (ancient history back in 2002).
Lot 24, a lovely, toned uncirculated Noe 5 Oak Tree Shilling attracted the most attention at $110,000 hammer while lot 49, a remarkable, lustrous uncirculated Oak Tree Sixpence hammered at $55,000 to a collector. 350 years down the track and I guess not much has changed – a shilling is still worth twice as much as a sixpence.
And along the way the rarest coin in the sale, the fascinating Noe 18 Oak Tree Sixpence, did not go unnoticed by the specialists opening at $8,000 and finally hammering at $100,000 after a spirited run. I took a good, long look at that coin during lot viewing figuring I might never see one again.
The remarkable run of Pine Trees kicked off with lot 73, the well-pedigreed Noe 1 coin whose new owner can proudly add his or her name to the pedigree chain which already included Mssrs. Mills, Smith, Wurtzbach, Clarke, Boyd and Ford. Lot 82, the attractive Crosby plate Noe 3 shilling, attracted high interest, opening at $7,000 and finally succumbing at $55,000.
But not every coin reached the stratosphere – Lot 114, a beautifully toned Noe 17 Small Planchet Shilling pedigreed to the 1912 George Earle collection sale sold for a reasonable $12,000 to a well-known dealer. Also interesting (to me, anyway) was lot 130, the actual Noe 29 Shilling plated on the cover of the 1973 Noe reference re-print, which reached $12,000.
In total, 147 coins realized $5,700,000 in about 2 hours.
While some coins will re-appear after the sale, I believe the majority will disappear for years into fine collections. We'll all watch with interest to see the impact of this sale on the market for Massachusetts silver coins in general, but if the presence of so many non-colonial dealers was any indication, my guess is that we will see strong interest in these coins across a broader market than ever before.
In the meantime, I will wait extremely impatiently for the next Ford sale – the French Colonies coins – in January 2006.