October 21-22, 2008: Stack's 73rd Anniversary Auction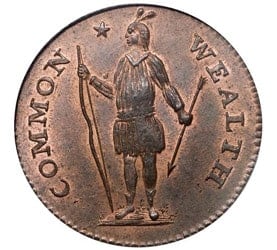 Good news everyone, we have for you here a TWO (2) Day auction recap!
Day 1:
While most of the rest of the numismatic world was still sleeping, I was up like a medium-speed bullet at 3:30 AM EDT in anticipation of catching that first train to NYC.
And the good news is that I was on time AND the train was running (something that you can count on about 63% of the time in my experience).
A quick 3 hours and 45 minutes later I arrived at Penn Station without a hitch (other than near my near complete exhaustion), cruised over to Stack's new offices on 57th and was pleased to be the first person to arrive for lot viewing, and thus the first to greet Stack's 'regulars' – the ladies who assist with lot viewing at every sale and who have been doing so for almost as long as I can remember.
Another hour and 45 minutes later I finished my first pass at everything, just in time for our own Dave Wnuck to arrive and do his own detailed and independent lot viewing (unbiased by my opinions) while I headed out to lunch with a collector-customer who works in the area.
After a good time talking coins and eating something actually quite sensible, I headed back to Stack's to view the lots yet again.
Now I know what you're thinking:  Again?  Are you kidding me?  You viewed them all again?
No.  I did not waste time viewing the crappy coins of no possible interest to us.  But I did double check the small subset of coins I liked to confirm what I already thought and make sure I didn't miss anything, such as the light unmentioned graffiti on one of the otherwise nice raw coins in the session.
And then it was time for Dave and I to compare notes, argue, debate, ridicule one another and ultimately, over a period of several hours, narrow our list down to the not more than a dozen or so coins we both liked enough to try to buy.
And with that finally complete, it was time to go find some sushi, which we did after an extremely brisk walk in suddenly freezing and very windy weather – nothing some hot sake couldn't fix, however.
We'll be back at it first thing tomorrow re-re-reviewing the lots and making sure we have the target coins, our max bids and how we plan to bid (i.e. in the room, via the internet, on the book, etc.) all sorted out before the auction. It may sound like overkill (actually, it does to us), but, in our experience, the best way to buy the wrong coins or to pay too much is to fail to plan properly and then just wing it in the auction.
So we certainly won't be doing that.
Day 2:
Wednesday began with the gentle sounds of a guy throwing a large steel trash can against a dumpster at 5:24 AM directly outside my hotel window, which was a nice (though fairly typical) way to wake up in NY.
But once awake, it was time to get organized and run down the stairs to the business center / lounge to use one of the 2 PC's available to guests before someone else jumped in front of me.  As usual, I did get there first, and had ample time to tool around the internet checking my standard list of 30 or so numismatic websites, various Ebay categories, etc., etc.
Even the lady who showed up to use the other PC didn't bother me, despite the fact that while checking her own email she READ IT OUT LOUD and reacted with an occasional "ARE YOU KIDDING ME?" or a "WHAT?  ARE THEY SERIOUS?".  I thought of many amusing things to say to her in this situation, but opted to look straight ahead since the evidence suggested she was most likely a 'wacko' who might react unpleasantly.
Anyway, this continued for some time until Dave came down for our 'Strategy Breakfast' in which we talked about the auction and 50 other things going on right now.
Then it was time for the 15 block walk to Stack's on a pleasant morning in which both Dave and remarked how nice it was to be in NY every couple of months, but how we were absolutely thrilled to live in leafy suburbs in which, for example, no one stood in their underwear in the street playing a guitar and collecting money from passersby.
So we got to Stack's and did our final review, not really changing anything materially from the day before.  And then, after lunch, it was finally time for the auction.
So how'd we do?
Well, we bid on 13 coins and won 11 of them.  We were happy with the haul and prices paid, though only one went for a number well less than our max.  But I won't go into specifics on these yet as many were raw and will be heading out to the grading services before appearing on our list in the not-to-distant future.
In general, it was sort of a strange sale with some interesting results:
Lot #16, the 1787 Massachusetts Cent in MS64 RB [NGC] sold for $37,375 to a NY specialist with CRO as the underbidder.  I believe that is a record for that issue by a factor of 3, indicating that coins that look like this aren't going to let a little thing like a major economic downturn impact their demand.
Lot #31, the bright white "MS61" [NGC] Half Disme sold for $155,250 to a phone bid.  The coin was sort of the quintessential product coin, probably an original AU (with obvious rub on the high points) that had been nuclear radiated, turned blast white and then placed in a shiny new NGC mint state holder in search of a nuevo-collector to buy the slab label.  We suspect that the exact same coin, pre-dipping and housed in a PCGS AU holder would have sold for more in this session.  Possibly much more, just like the last original looking P55 which sold for $172,000 at Heritage.  I hope there is a moral in this story somewhere sufficient to save the next original looking AU from a similar fate, but frankly I am not optimistic.
Lot #233, a pretty 1928 Standing Liberty Quarter in MS67 FH [PCGS], a coin of interest to Registry Set collectors for sure, sold for a robust $32,200.  One thing is for sure – the PCGS price guide value for this coin in this grade of $8,500 is likely to be adjusted upwards.
Lot #358, a not-all-that-original 1795 Flowing Hair Dollar in AU58 [PCGS] CAC sold for a 'going-rate' price of $69,000.  Heck – we'll probably see it in an NGC 61 holder before too long, where hopefully it will enjoy the same fate as the Half Disme above.
Lot #457, a very rare but altogether hideous 1870-S Seated dollar, the worst one known, with VF details but severely damaged and poorly repaired, still sold for $120,750 which seemed like a lot to us (though admittedly we are not experts in the screwed up rarities area).
The sale also boasted a complete and pristine 1899 gold proof set, with each coin sold separately.  Every coin in the set did well, with the especially choice 1899 $20 in PF67 UCAM [NGC] overcoming its strong reserve to sell for 172,500 clams.
Finally, lot #1320, a gorgeous and absolutely untampered with 1851 Liberty Half Eagle in MS65 [NGC] pedigreed to the Pittman Collection sold for a seemingly very reasonable $31,625 – especially when one considers that this very same piece brought $25,300 at Heritage in 2000 (ancient history as coin sales go).
So, our conclusions?
Really great stuff seemed to go very strong in general, though not always.  Some stuff reserved high didn't sell, others did.  Some stuff we hated sold very strong.  Some stuff we hated tanked.  In other words, I'm not sure what our conclusions are, other than to say that the coins we wanted to buy sold for the about same levels they have for the last year or two, and we are moving forward employing the exact same strategy we have been using.  Hey, it seems to be working.
And with that, we sign off.
Our next Road Report will be from Coinfest in a couple of weeks, and will appear on this page directly above this article.