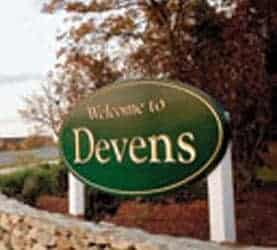 We didn't exactly get off to a great start today, as we made a wrong turn on our way to Devens and ended up in a place called Shirley.  And while I'm sure that is a real fine town, there was no coin show there today and so it was not on our travel itinerary.
How could this happen?  Admittedly, we are a bit out of practice getting here since this was our first visit to a show at this venue since waaaaay back in April.  It also didn't help that the state of Massachusetts has changed the numbers of every exit on every highway around here for no reason whatsoever, so I maintain that this could have happened to almost any coin dealer.
And maybe it did, since we arrived at the show slightly late at about 8:30 and found many of the usual attendees weren't set up yet.
But eventually all the expected dealers filed in, followed by the public.  And while it was never super crowded on this day, there was a vortex of activity almost right from the start in which we accomplished a lot:
Sold 4 US coins
Delivered a recent coin we acquired from HA on behalf of a customer
Bought another 3 on the floor
Sold one of those to a collector at the table
Followed by a gem Saint which had been on our site
Split a coin with another dealer
I was also going to say that we had a near miss with a high end 8 escudo at the table, but the dealer who had been looking at it just called me to say that he decided he wants it thus allowing us to slide that coin into the sales column.
So I'd have to say this was an extreeeeemely productive show for us.
A feeling we hope carries over into the Baltimore Expo from where our next RR will be written in just 2 incredibly short days from now.
EOM