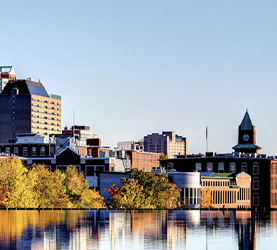 October 26:  Day 1
On an unseasonably warm fall day here in New England, Team CRO cruised up to NH in the afternoon passing miles of fall foliage for the traditional 3PM start of dealer set up.
Where we arrived to a room already teeming with activity, and of course joined right in.
First setting up the booth at high speed (as always), then scouring the floor for cool coins (ditto), after which it was time to look through a secret deal, deliver 4 coins ordered off the list recently by other dealers (with 1 more to go tomorrow) and generally make ourselves extremely numismatically useful in every way possible.
A smooth and efficient operation which would be disrupted when your author had to race out to a nearby Fedex Office location to make sure we got a box off to a customer.
Returning just in time to buy 4 coins on the floor, all of which I would describe as 100% pure CRO.
Making for an extremely productive few hours here in NH, and indicating (to us, at least) that this is going to be a pretty good show.
And if it is, or even if it isn't, you can read all about all of it right here in about 24 hours from now.
October 27:  Day 2
We were back at it early on Friday, arriving at the convention center just before 9 AM where we again encountered an already busy room populated by dealers and early-arriving collectors.
So we again jumped in, quickly set up the booth and began doing business immediately.
And it turned out to be a lot of business with both collectors and dealers of the buying and selling variety pretty much all day long.
In every category too – as we sold colonials, US type, old gold and world coins while buying some great stuff:
A superb Pine Tree Shilling
Four (4!) nice Seated Dollars from 4 different sources
A bunch of Capped Bust Halves we had sold to a collector abut 10 years ago
Some choice CACG type coins
A cool 16-D Dime
Which would represent a good 1-day haul at any major national show, let alone at a regional event like this one.
Which is why we appreciate show organizer Ernie Botte for putting on a great show here in the Granite State, and explains why we were definitely going to be here and not at the new IMEX show being held simultaneously in Nashville.
Hey, maybe next year if the schedules allow we can do both, and then write even more Road Reports in this section of the site.
But for now it's just this one, including our next installment which will appear right here first thing on Sunday AM.
Until then, then –
October 28:  The Exciting Conclusion
Let's wrap up this NH Show RR with another of our series of random observations presented in no particular order whatsoever:
I was a little concerned that the IMEX show held in Nashville over these same days would siphon off a bunch of people and make this show less robust than in the past, but best I could tell just 2 dealers who are normally here did that one instead.
Buying and selling here in NH were about typical in our experience, which is to say very good on both counts.
CRO hats I observed on show attendee heads:  6 (with none of those actually given out by us here, since we were c-o-m-p-l-e-t-e-l-y out until we unpacked our new shipment late Saturday).
For a regional show, we get a lot of serious collectors here in all categories.  It's impressive.
The snack stand lunch fare here is waaaaay better than you might expect.
I want to once again give a shoutout to show organizer Ernie Botte who just knows how to run these events successfully.
We had a lot of serious parent and child visitors at our table which is always encouraging, and reminded me of attending similar shows with my own father starting in the late 1960s.
I saw a number of ex-CRO coins here in various dealer cases which we had sold to collectors years ago, so of course I ran around and bought back as many of those as I could.
And now back home, we're going to enjoy 24 hours of R&R before we start to gear up for the Whitman Baltimore Expo from where our next RR will be written in just 10 incredibly short days from now.
So you might want to keep an eye out for that . . .