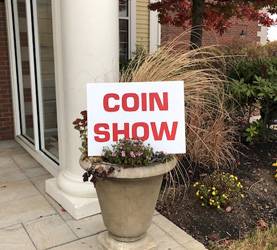 With an afternoon monsoon in the forecast, we were wondering what impact the highly varied New England weather might have on our local coin show attendance.
But once again we found that the intrepid NE collector and dealer community is unfazed by a little rain (or rain pouring down in large buckets as it would eventually do on this day), as the show was crowded start to finish.
With a steady stream of wet visitors to to the table, including long time friends and new customers we had somehow never met before in years of doing this, from as far away as Maine, Vermont and CT, and as close as the next town over.  With, surprisingly, several husband and wife teams and one boyfriend/girlfriend combo.
All there to talk coins, check out our wares, consider buy, sell or trade options and generally do business.  Which we did to the tune of 8 coins sold, 6 purchases, 1 trade and 3 more in the "currently under consideration and might possibly turn into a deal later" category.
With perhaps the only negative being the unfiltered guy who asked MaryAnn if she and i were related, and then upon hearing that we are married blurted out "Wow, your husband is a lot older than you are." despite the fact that we are actually the same age.  So thank you, that's nice to hear.
Easily offset by the good business and less offensive exchanges we had with others right up until about 1:30 when we started to pack up and head out in anticipation of another busy week of customer meetings, website work and auction prep.
But not before we squeeze in about 8 hours of RR on what's left of the weekend here.
EOM