October 31, 2015: October by the Numbers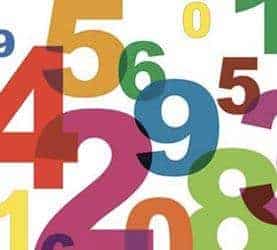 As we remove our thick, pancake Halloween makeup and neatly fold and put away our usual B. Max Mehl costume, it is time for another installment of CRO's 'By the Numbers' in which we highlight a month numerically starting right now:
0: Coin shows attended in October.
Also 0: Air miles flown this month, which was a rare treat.
Over 600: Total miles driven to meet with collectors and dealers to conduct coin business this month, including many local meetings, and one collection purchase in a nearby state.
$250: Least expensive coin we bought in this month.
100x That Amount: Most expensive coin we bought. Though I can say in all seriousness that there is a possibility we will make more money on the previous item than this one.
Just One:  Early Bird Notifications launched this month.
40.7%:  Early Bird items in total sold from said list to date.
Half a Dozen: Orders received for the single most popular item therein.
More than 6 Centuries: Age of the oldest coin among them.
1969: Date of the only raw item we sold this month, acquired by us at a show earlier in the year while quite literally killing time waiting for a dealer at a different table to finish some paperwork.
16: New people who clicked on the gold Early Bird button on our home page and added their name to our mailing list this month.
4: Number of them who ordered a coin from the very next list. We really like when that happens.
2 and Very Nearly 3: Layaway deals which were consummated in October.
9,631: Distance in miles from our office to the furthest recipient of a CRO coin.
Roughly 3 and a Half Hours: Shortest holding period of any coin sold this month.
Almost 4 Years: Holding period of the longest one, a coin we bought in late 2011, chucked in the safe back then and figured we'd get to eventually.
23: Coins we sold on Ebay this month.
½: Unplanned, unexpected portion of a coin we purchased in the middle of the month with another dealer, and then delightfully sold right after.
4 or 5: Other coins dealers offered to split with us that we declined.
Unfortunately Once: Times the CRO mascot dog had an accident in the office. And if that's the worst thing that happened this month, things must be going pretty well.
Finito