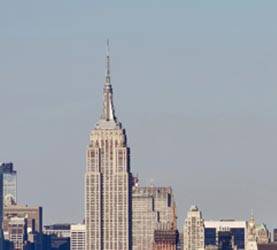 October 8th:  Prologue
Go ahead, try to guess the last time that CRO set up at a show in New York City.
(Jeopardy theme music plays for several minutes).
If you said the ANA World's Fair of Money in 2002, that would be a fine guess. Not an accurate one though.
The actual answer is the New York Invitational held at someplace called the Metropolitan Pavilion in September of 2006, about which I can distinctly recall the following: We bought a colonial coin for $700. We sold a handful of world coins to other dealers. Attendance was uninspiring. We all commiserated that NY was not a great place for a show and that we would not be in favor of another one. On the other hand, we had some really excellent meals that week.
So when we had an opportunity to 're-up' and return for the NY show this week, did we re-hash the past and say "No thanks"? Did we go back and review our financials from that earlier show and say "I don't think so." Well, obviously not, and for several reasons: 1. While past performance can be an indicator of future results, 8 years is a heck of a long time in our business, and so I personally did not think that prior event had any bearing on this one, 2. There will be a new group of dealers here, 3. In a different venue, 4. We do not have the same coins this time, and 5. Don't forget that part about the food.
So here we are, numismatic Guinea Pigs of a sort, once again rocketing toward the Big Apple with absolutely no expectations of any kid, but optimistically approaching this as we do all shows as places to buy and/or sell cool coins, see and be seen, wheel and deal, etc.
And as we always say, if we do, and even if we don't, everything that happens at this show will be posted right here in this space every morning in what is STILL, 9 years hence, the only daily show report in the coin universe.
More later.
October 9th:  Day 1
Let's start with the good news here:  I found 9 or 10 coins to buy on the bourse floor. I met 5 people who have been long–time CRO customers that I had previously only known via the internet. I made an offer on a group of coins which might yet come to us. I enjoyed some high-quality numismatic schmoozing with many collector and dealer friends.
On a less positive note, overall traffic was tepid (about like one might have expected), we made just 2 sales during the day, and (and this is the kicker) a few of the things I had planned to bid on in the auctions here had actually been sold Wednesday night while I was en route to the show, a rare occurrence when your author flat misread the schedule and dropped the ball. Oh well.
But rather than wallow in numismatic self-pity, we walked past the women wearing only body paint in Times Square, got on the train and headed over to Brooklyn with some dealer friends for a fantastic dinner at Cent'Anni, walked through Prospect Park in the dark without being mugged and returned to the hotel at about 11 PM where your author typed this uneventful blog, and then went to bed in anticipation of a Friday which might be busier and better.
Because hey, you never know.
EOM
October 10th:  Day 2
So I arrived at the show at a crisp 9 AM on Friday, walked around the room studiously looking for interesting coins, found a few, and then returned to my table for a few hours of not-very-eventful numismatic activity in which just a few customers stopped by to chat and/or look at a few coins.
And after a few hours of not very much happening, and others dealers starting to pack up one by one and leave, I concluded that staying here through late Saturday (as per my original plan) was not going to be worthwhile and so I changed my ticket to an earlier departure.
Which obviously triggered some kind of cosmic switch, since from that moment on it became a totally different show for CRO, with some genuinely robust sales of federal coins (plus two colonials) continuing right up until closing time which I would never have predicted and frankly could just as easily missed if I had followed my instincts and headed out to dinner earlier.
Proving once again that you really never know what's going to happen at a show, and that to be successful in this business all you have to do is be everywhere, all the time.
And so it was on a high note that we eventually headed out for dinner in Chelsea with some dealer friends and friends of dealers' friends, than enjoyed a comfortable stroll back to the hotel at about 11 PM.
Which leaves your author wondering exactly what to expect here on Saturday but knowing that we'll take it as it comes and like our chances to do some business (since a lot of the other dealers have already left and thus the competition will be pretty lean).
Whatever happens, it will be described right here from the comfort of home on Sunday AM.
October 11th:  Day 3
With a last minute change of plans, I had to be back in New England by 6 PM on Saturday, which meant I had to be on an earlier train than I originally booked, which turned what might have been a leisurely day filled (at least in the beginning) with some additional coin buying and selling into a hectic race to Penn Station in the rain.
So I can't really say much about the show on Saturday, other than to note that the couple of people I saw before leaving both came to the table with a want list of world coins, none of which I had in stock (and most of which I've never had in stock, actually). To be totally honest, I had never heard of about half of them. So obviously that did not equate to any sales.
What I might have missed after leaving we'll never know, but my overall expectations were pretty low for the day since every other dealer in my row was gone as of Friday evening, and it was fixing to be p-r-e-t-t-y lonely in my corner of the room. In any case, I apologize if I missed anyone.
And while Saturday was thus a washout for me from a buying and selling perspective, the overall event was well worth attending, as I bought 9 coins, sold 11, met some old friends and formerly-internet-only acquaintances, made some new contacts and generally had a lovely time in NYC.
And now, back home and almost fully recovered, I can start work on our next EB which will go out on Tuesday at noon. So you might want to keep an eye out for that.
The End