Fr#NJ-183, March 1776 6 Pound note.  S/N 308.
The first of a couple of Rittenhouse-related pieces on our list, this is one of just 3,125 notes printed with then-engraver (and future U.S. Mint Director) Rittenhouse's name printed within the central design on the left obverse border in tiny letters as seen in our enlarged photo: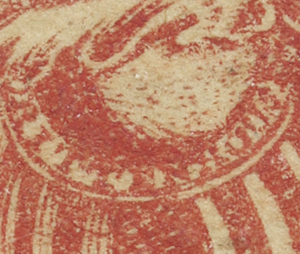 And this is a lovely Choice Unc. piece with Exceptional Paper Quality, a bright, fresh red and blue printed obverse and crisp, bold signatures.
HOLD
To order or inquire about this item, call us at 1-800-Coins-99 or email us at Info@CoinRaritiesOnline.com or complete the form at the bottom of this page.