Fr. DE-83 variety, serial #50753
An utterly superb, original, untouched example with deep, bold printing and very broad, even margins.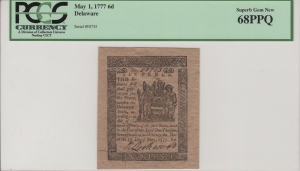 With a charming and expertly engraved vignette of the Great Seal of the State of Delaware as adopted in January of that year, and the forthright 'To Counterfeit is Death' on the reverse.
$3,475
To order or inquire about this item, call us at 1-800-Coins-99 or email us at Info@CoinRaritiesOnline.com or complete the form at the bottom of this page.