Breen-1195, Baker-3 Engrailed Edge variety, struck in Silver.
A superb original example with deep, clear mirrored surfaces and lovely old cabinet toning that comes alive when you twirl this piece in the light as seen in the PCGS TrueView images: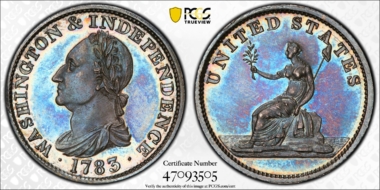 Choice in all respects and extreeeeeemely desirable as such.
HOLD
To order or inquire about this item, call us at 1-800-Coins-99 or email us at John@CoinRaritiesOnline.com or complete the form at the bottom of this page.