Newman 19-Z, W-6975 variety, STATES UNITED, Raised Rims type. Considered to be Rarity-5.
Quite possibly the finest known example of this distinctive and scarce type with the Raised Rims reverse (referring to the inner circles surrounding WE ARE ONE as seen here):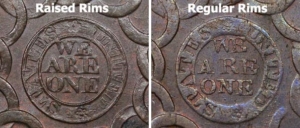 With hard, smooth surfaces, razor sharp detail, pleasing medium brown color and rolling luster of the sort only found on original, unconserved examples of this type.
$52,750
To order or inquire about this item, call us at 1-800-Coins-99 or email us at John@CoinRaritiesOnline.com or complete the form at the bottom of this page.