Newman 12-Z, W-6830 variety, Raised Rims type. Considered to be Rarity-5-.
Featuring the Raised Rims reverse (referring to the inner circles surrounding WE ARE ONE as seen here):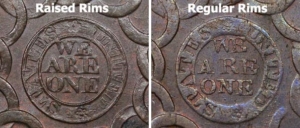 The Raised Rims are found only on the Newman Z reverse married to three obverses in this series:  The Newman 1-Z, 12-Z and 19-Z varieties.
And this 12-Z is a tough variety we have offered only a few times in the last 20+ years, and this is an incredibly wholesome, all original VF with very pleasing chocolate brown color.
SOLD
To order or inquire about this item, call us at 1-800-Coins-99 or email us at John@CoinRaritiesOnline.com or complete the form at the bottom of this page.