Maris 54-k, W-5295 variety, Serpent Head type.  Considered to be Rarity-3.
This is a loooong off the market and extremely nostalgic example, since your then 13 year-old author remembers seeing this very coin plated in several editions of the Scott Catalog & Encyclopedia of US Coins in the 1970s, including this 1976 version with an era appropriate groovy cover: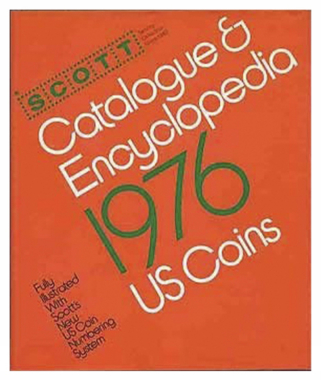 Where this Serpent Head was undoubtedly selected based on its high grade and unusually sharp strike, with NOVA CÆSAREA bold and clear on the obverse (which is not always the case on this variety).
Hard, smooth surfaces too, with rich medium brown color and excellent eye appeal for this issue.
Ex Scott Catalog & Encyclopedia of U.S. Coins 1976 Edition plate coin as noted; earlier Stack's June 1975 sale of the Robert J. Kissner Collection, lot #143.
SOLD
To order or inquire about this item, call us at 1-800-Coins-99 or email us at John@CoinRaritiesOnline.com or complete the form at the bottom of this page.