Ross-M247, van Hoydonck-123 variety. By J. Wiener. 59mm.
Featuring a neat and dramatically 3-D depiction of the Duomo di Pisa: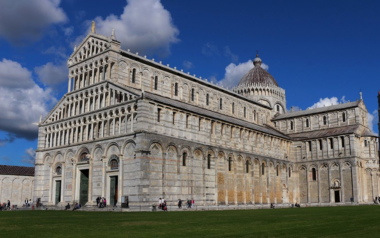 Not seen in this view:  The Leaning Tower of Pisa, which is just to the right of this edifice (undoubtedly surrounded by tourists who are all doing that thing where you stand in the foreground and pretend to hold it up in a photo after which much hilarity ensues).
And this is a lovely example of this medal with unusually nice light chocolate brown color.
SOLD
To order or inquire about this item, call us at 1-800-Coins-99 or email us at John@CoinRaritiesOnline.com or complete the form at the bottom of this page.