A neat Swiss issue struck to commemorate 50 years of airmail service.
With a charming Junkers A20W seaplane on the obverse designated CH-130, which took off for Persia in the fall of 1924, arriving in Teheran at the end of January(!).  Here seen in Isfahan after the floats had been replaced by a wheeled undercarriage in Greece during one of many stopovers: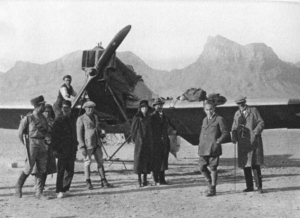 The reverse depicts a pseudo-modern plane very similar to one that I doodled in the margins of my English notebook in 5th grade.
The piece itself is a cool, golden toned, deeply reflective Choice Proof (though designated SP by PCGS) with excellent eye appeal.
SOLD
To order or inquire about this item, call us at 1-800-Coins-99 or email us at John@CoinRaritiesOnline.com or complete the form at the bottom of this page.