Hodder 2-B, W-12040 variety, Thin Planchet type, overstruck on an English Charles II Halfpenny like this (image courtesy of PCGS):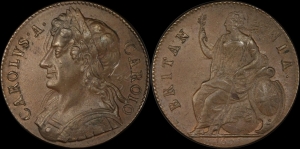 Q:  Hey, how do we know that?
A:  Because the instantly identifiable CAROLO legend from the host coin is boldly in evidence here above GOD on the reverse.
Making this a rare and important issue that is among the nicest of just 5 known overstruck Elephant Tokens, with choice surfaces and lovely chocolate brown color.
$14,975
To order or inquire about this item, call us at 1-800-Coins-99 or email us at John@CoinRaritiesOnline.com or complete the form at the bottom of this page.