Hoydonck-123, Weiss BW575 variety, by Jacques Wiener.  60mm.
The piece depicts the Duomo Di Pisa, the less well known structure next door to the famous Leaning Tower of Pisa (visible in the background of this image, but unfortunately not seen on this medal):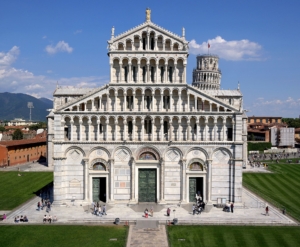 The piece itself is a nice, original mahogany brown near gem with nothing in the way of marks or distractions.
SOLD
To order or inquire about this item, call us at 1-800-Coins-99 or email us at John@CoinRaritiesOnline.com or complete the form at the bottom of this page.