Hoydonck-21 variety, by Jacques Wiener.  50mm.
This featuring the pointy spires and arched ceilings of the Cathedrale de Tournai in Belgium on which construction was started in the 12th century (though this picture was taken more recently):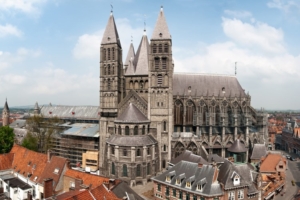 And this is a nice near gem with lovely color.
SOLD
To order or inquire about this item, call us at 1-800-Coins-99 or email us at John@CoinRaritiesOnline.com or complete the form at the bottom of this page.