Hoydonck-141, M188, Eimer-1507 variety, by Jacques Winer. 60mm.
Featuring the 14th century Winchester Cathedral in Winchester, England: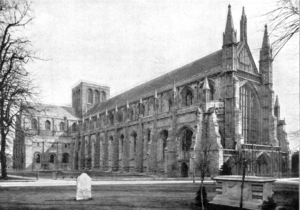 Also famous as the topic of the 1967 song "Winchester Cathedral" by The New Vaudeville.  You're welcome.
And this is an original mahogany brown example of one of the more popular issues in this series.
SOLD
To order or inquire about this item, call us at 1-800-Coins-99 or email us at John@CoinRaritiesOnline.com or complete the form at the bottom of this page.