Hoydonck-112 variety, by Jacques Wiener.  60mm.
Depicting The Cathedral and Metropolitical Church of Saint Peter in York, England which was completed in 1472 after several centuries of construction (so basically the same timetable as our kitchen renovation):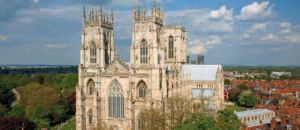 The piece itself is a choice chocolate brown with no distractions.
SOLD
To order or inquire about this item, call us at 1-800-Coins-99 or email us at John@CoinRaritiesOnline.com or complete the form at the bottom of this page.