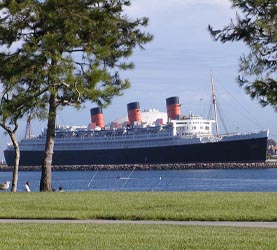 Day 1:
Let's break this thing down by the numbers:
2,606:  The total miles we flew to get here.
17:  The number of times the guy next to me on the flight asked me to get out of my aisle seat so he could get out (apparently so that he could just stand in the aisle watching my little TV over my shoulder).
5:  The number of fans we saw dressed in full Ohio State regalia heading out to the USC game as we arrived at the hotel in Beverly Hills.  We did not see them return later (after they were thumped 35-3), which was probably a good thing.$241:  The cash we handed to various cab drivers.
14 lbs:  Total weight of my briefcase when filled with this week's Goldberg, Bowers, Superior, Ponterio and Heritage auction catalogs.
1:  The available seats left for lot viewing at Goldberg's when we arrived.
2,877:  The total number of auction lots we saw there, including some utterly superb copper, many fresh coins that have been off the market for ages, choice type, top-notch gold, etc., etc.
66RB:  The seemingly quite accurate PCGS grade assigned to the 1796 Liberty Cap Cent (certainly the best one we've ever seen, or heard about) in the Naftzger consignment.
$200,000:  The sell price we heard several people independently predict for that item
24:  Hours you'll have to wait for us to talk specifically about any other lots (since we'll be bidding on a bunch of them).
About 7%:  The grade of the street you have to walk up to get from Goldberg's to the Tower Hotel where Bowers lot viewing would take place.
933:  Bowers lots we saw.
12:  Bowers lots on which we decided to bid.
5:30 PM:  Time when we got back to our hotel.
14:  Numismatic messages responded to in great haste before heading out to dinner.
20+:  The number of people who would join us at the lavish event graciously hosted by Goldberg's at Morton's.
14:  Crab cake appetizers I saw Dave eat (but which he will deny later).
3:  The number of artfully written signatures in the deluxe hard-bound Ray Rouse catalog given out by Goldberg's / McCawley-Grellman at the end of the evening.
10:50 PM PDT:  The precise time I would collapse on my hotel bed, exhausted from the day's events.
Day 2:
Looking forward to an exciting day of high level auctions, I leaped out of bed at precisely 2:20 AM on Sunday, realized this made no sense whatsoever, and tried to go back to sleep unsuccessfully.  So, wide awake, I figured I'd make the best of the situation by writing the Day 1 blog.
That took until 3:41 AM, which left ample time to re-review Sunday's auction schedule, think more about what we were going to bid on, and how much.
Sometime during this process the sun also came up.
And, eventually, the clock struck 8:00 and it was time to go meet Dave in the Priority Club lounge on the 12th floor and indulge in the tiny muffins and children's sized glasses of apple juice.
By 8:30 we were on the road, heading back to Goldberg's for another look at the few dozen lots were going to bid on in their sessions scheduled to begin late in the afternoon.
We actually got their too early (a testament to either our work ethic, or to our inability to read the simple lot viewing schedule printed in the catalog).  So we cooled our heals for a while, reading some of the 1960s era Abner Kreisberg auction catalogs in Goldberg's library until the staff was ready for us.
Anyway, we did start viewing at around 9 before anyone else showed up, going through the Ray Rouse Half Cents, Naftzger early copper, a few colonials and other early copper of interest.
Finally satisfied we'd seen enough, we headed over to Superior's lot viewing set up back at the Tower Hotel and found a couple of things of interest there as well.
Then it was back to the Crowne Plaza for the start of Goldberg's session at 3 PM.
We thought it might be a bit of a zoo there and that we'd struggle to find two seats together, but it was surprisingly empty when we arrived.  But the crowd did file in, and by the time the first lot was called the room was 90% full of the usual suspects as well as a big crowd of the most serious EAC types – including Walter Husak who sat in front of us.
The session began with the fine Half Cent collection of Ray Rouse (who sat proudly in the front of the room), including 167 lots of choice, attractive, 100% raw Half Cents by die variety (and sometimes by die state).  This had the look and feel of an old time collection that had been off the market for a generation, with a lot of crusty pieces and all sorts of old-time pedigrees, but a number of the coins had been purchased in recent years, including one coin acquired at the 2008 EAC show just a few months ago.
But it didn't seem to matter, as the prices were pretty robust overall.  The highlight of which was lot #31, the 1796 No Pole, a pleasing VF in our eyes, which hammered for a robust $300,000, but many of the less valuable coins also sold strong to many different bidders, including a few to us.
In one notable case, our dealer friend and half cent specialist Jim McGuigan purchased one lot that he had originally sold to Mr. Rouse – though this time Jim paid 7 times his original sale price.
That ran until about 5 PM, at which time the much-anticipated Naftzger Large Cent offering got started to a now completely full room ready to bid like crazy.
The first few lots included some very sexy stuff that sold strong, but it was lot #171 that drew the most attention.  This was the superb 1796 Cent in MS66 RB [PCGS], a coin that Naftzger apparently liked well enough to hold back when he sold the bulk of his utterly spectacular early cents years ago, and a piece we knew would sell for moon money.
Right before the lot went off I bet Dave that it would hammer for $475,000.  I was wrong.
It opened at $110,000, briefly stalled at $180,000, then slowly built momentum into the $300s, eventually shaking loose everyone except the rep of a high end collector and a phone bidder who engaged in a high level game of chicken as the price crept above $500,000.  With each increment each bidder hesitated for what seemed like an eternity before continuing until the eventual winner finally nodded at $600,000 and then chucked his bidder number aside, perhaps an indication that he really, really didn't want to go any higher.  But he didn't need to, taking the coin at that number.
That's $690,000 all-in – more than any coin in the Husak sale, and in fact more than any copper coin has ever realized in any auction in numismatic history.  Think about that. The highest price realized wasn't a 1793 Liberty Cap, or gem Chain Cent, or Starred Reverse, or even a Strawberry Leaf.  At least not at this moment.
After the room settled back down, there were plenty of superb pieces to come, including lot #173, the 1797 S-140 in MS66 RB [PCGS], which was the most stunningly lustrous early cent we've ever seen and which sold as such, hammering down for $165,000 against a pre-sale estimate of $40,000 – $50,000.
And despite the wild activity in the room at this point, I glanced to my left and noticed that the guy seated between me and Laura Sperber was sound asleep.  Seriously.  Evidently he was not impressed with what was happening around him.
But we were, watching all sorts of fantastic pieces bringing wildly impressive prices and suggesting that there was no indication of slow down in the market at all among this crowd.
As the last lot Naftzger lot hammered down, it was time for a dinner break and then on to colonials.
And it was a concise offering featuring mostly just stuff, but also a seldom seen Standish Barry Threepence apparently purchased in the 1920s, off the market ever since and thus missing from my own census of these pieces prior to the announcement of this sale by Goldberg's a few months ago.
We thought it would sell for 125K, and, in this case, we were exactly right – though no one knows how much higher the eventual buyer would have gone had it been necessary.
And then we were off to dinner at our favorite Sushi Restaurant up the street for a sensible meal which did not include waaaaay too much food but which did include extensive discussion about Monday's auction lots.
Then it was back to the hotel for an early evening and some much needed sleep which I sincerely hoped would not end at 2:20 AM again.
Until tomorrow –
Day 3:
I did not wake up at 2:20 AM today.  Nope – it was 2:19 AM when I looked at the clock this morning, but this time I figured out why.  My room is, conveniently, right across the hall from the janitors closet here at the hotel, and I figured out that someone must either begin or end their shift at that exact time each morning and celebrate by slamming the door specifically to wake up the numismatist in the next room.  As they have now done twice.
But once I'm up, I'm up, so I had plenty of time to review lots, again, and write the blog, again, etc.
Time went pretty quick though, and soon it was time to meet up with Dave and walk over to the Tower Hotel for a little more lot viewing before the first Superior auction session starting at 10 AM.  But when we arrived we got a rude awakening in the form of the new opening bid sheet which revealed that many coins that looked unreserved (and therefore buyable) yesterday suddenly showed reserves at about double retail today.  Oh well – we crossed those off our list, but there was still plenty of things to bid on in a most unusual catalog which included some great 6-figure rarities and other giant coins reserved to the hilt mixed in with some low grade group lots worth about $50 and tiny pockets of good things that we liked hidden here and there.
We managed to buy a few cool coins, then headed straight to the Marriott for some quick and efficient viewing of the lots at the Ponterio auction before going back to the Crown Plaza for Goldberg's next session (and free lunch!) starting at 1 PM.  It wasn't a good yield at this one though, as we sat through a few hundred lots of what seemed to be mostly familiar looking dealer consignments reserved at high levels, bid only occasionally and won not very much.
This session ended in the late afternoon, which gave us about an hour to unwind and answer emails before we had to head back to the Tower for the 2nd (and last) Superior auction this evening where we had much more fun buying quite a few things in an unexpectedly good session.
I say unexpectedly because most of the scuttlebutt in the room before the auction centered on the crapola economic news and speculation about what impact it would have on the market.  The consensus:  It sure doesn't sounds good, and it's hard to imagine it's going to help business, but as the lots were sold prices were holding on mediocre coins and extra-deluxe strong on anything really good, as always.
And that was it.
Tuesday we've decided to head on down to LB a day earlier than planned (if possible) to get a jump on Heritage lot viewing and to go see a private collection we've been trying to buy, as it looked like there wasn't going to be enough time to get it all done otherwise.
Our next RR will be from LB approximately 24 hours from now.
Day 4:
Another day, another walking tour of Beverly Hills, as we trekked all over the place viewing last minute lots, placing bids and getting our stuff together before heading down to Long Beach a day earlier than originally planned.
And it went well, as we won – among other things – the one lot we desperately wanted at Goldberg's, managed to change our hotel reservations (no mean feat at the last minute), caught a ride down to the LB convention center and got to Heritage lot viewing early enough to see almost all of the 10,000+ lots up for auction in the US, World, Tokens & Medals auctions.
I've discussed it before, but that Heritage lot viewing runs like a well-oiled machine, which is much appreciated for those of us trying to see thousands of coins quickly and efficiently.
Which Dave and I did, merely the first step in our standard CRO process to try to narrow down the overall offering into the coins of highest interest, which we will then re-view separately, come up with our own individual numbers, compare notes, argue about them vociferously (including wild hand gestures), and eventually finalize bids.
Anyway, that took us right up to 6:00 and time for dinner with the HLRC contingent at a cool Italian place off the beaten track with gracious owner Mario and what might very well be the spiciest Arrabiata anybody has ever eaten.
From which I returned to the hotel just in time to fire up the laptop, elegantly spread inventory lists all over my hotel room and try to finalize the purchase price of a medium-sized collection we've been offered.
That took me until about 2:00 AM, signaling the end of another very relaxing day here on the left coast.
And now we look forward to Wednesday and, eventually, dealer set-up, which will be our first visit to a bourse floor of any kind since the ANA.  And since that was an almost unbelievable 45 days ago, we will be ready for action.
Day 5:
Our first full day in Long Beach was eventful, starting with breakfast in the Hyatt Gold Passport lounge.  Unfortunately, as it turns out, neither Dave or I are Gold Passport members at this time, which caused a great deal of embarrassment which was only partially mitigated by a free bagel with cream cheese for which they charged us $40.
Invigorated, we headed straight to Heritage lot viewing again, where today's mission was to finish looking at every single coin in the session and decide exactly what to bid on.
And time was tight, as we needed to finish before the noon kick-off of the Tokens & Medals session, which we of course did – allowing me to take a seat right in the middle of a session notable for several interesting things:
1.    The average value of each lot sold seemed to be about $200.
2.    There was a lot of cool stuff here that looked like a pretty good value.
3.    At one point, I managed to dump an entire box of Altoids, leaving about 75 mints on the floor under my seat to the great amusement of noted numismatist John Kraljevich.
Nevertheless, I managed to buy one lot, then scoot down to the bourse floor for the start of dealer set-up at 2:00 PM.
And it was pretty decent, as we sold a whole bunch of stuff and bought about 15 coins on the floor – primarily interesting and choice early type which we will look forward to putting on the site.
And before we knew it it was 6PM and time to head on up for the start of Heritage's Signature Auction, beginning with colonials.  But we would be spectators only, managing not to buy any colonials at all for the first time in recent memory (which was not surprising since we did not bid on any).
We did observe prices realized though, and saw the familiar result of marginal or anti-fresh material bringing unimpressive prices, with anything good attracting plenty-o-bidding participation.
And then it was chow time, as we headed off to the Madison with some dealer friends for another award winning meal, before concluding the evening with some late night paperwork back in the room.
Thursday will be interesting, as after being out here for 5 days we actually get to interact with the public on the bourse floor for the first time.  And we look forward to it with great gusto.
Day 6:
A collector friend and loyal Road Report reader pointed out to me that it appears, based on these LB recaps, that I have been going to bed at 2 AM, and waking up at 2 AM every day on this trip, which by his calculations leaves very, very little time for sleeping.  And while that isn't quite true, its not far off, the cumulative effect of which has been to make me extremely tired as we head into what numismatists call the 'home stretch'.
Fortunately, our rigorous CRO exercise program and strict numismatic diet specifically prepares us for times like these, and we roared into the first full day of the show with great enthusiasm, a large stack of checks ready to be written, and some pretty cool stuff to sell.
All of which we employed to good effect, as we bought several dozen coins ranging from the neat and affordable to the wickedly rare and expensive, from the esoteric to the mainstream, slabbed and raw, federal and colonial, etc.  Sales were decent too, as we were pleased to move a number of pieces on a wholesale basis, including 2 coins which were not good enough for the site, which failed to meet our reserve at an auction over the weekend, but which we nonetheless sold for the same amount here on the floor to another dealer.  That is always nice.
Even so, the bourse floor was relatively quiet IMO, and my own casual, unscientific observations didn't indicate any wild activity taking place except in the budget area, which at some tables resembled those chaotic scenes of the trading floor in the movie 'Trading Places'.
My other unscientific observation was that it was about 45 degrees on the bourse floor, which would explain why I saw some lady wearing a fur coat.  Indoors.  In Southern California.  On a day when it was 85 degrees outside.
That's it.  After a full day, hungry, and cold, we headed out at 6:30 PM for a normal-sized dinner at Gladstone's on the harbor.
Friday we look forward more selling and lots more buying.  So if you are at the show, and you have something cool to sell, please stop by and see us at table #535.
We will be the two guys who are not wearing fur coats.
Day 7:
No matter how much we try to get ourselves organized at a show, and how calmly we plan our auction bidding, or how thoughtfully we prepare USPS shipments to the office or to customers, it always seems to turn into absolute chaos at the end.
Such as Friday at the show.  When we realized at about 3:15 that the Heritage gold session began not at 6 as we thought, but at 3.  Which forced Dave into high-speed auction planning mode.  The good news is that we didn't actually miss any bids (since we didn't have any in the initial group of gold dollars), but for a few minutes there it was starting to look like an episode of I Love Lucy behind the table.
Same thing for our shipments, which we had lined up to mail at the end of the day before hearing the announcement at 4PM that the USPS was closing in 30 minutes.  And while that might seem like plenty of time to neatly box up packages, fill out forms and send them off, I can assure you that it isn't.
Part of the problem at these shows must be the tiny space behind the table, with no proper work area, no room to spread out documents, no place to hang a whiteboard with the day's schedule on it, extension cords running all over the place, etc.
But it wasn't all bad news.
We had another pretty decent day selling, though, as in previous days, it was mostly wholesale.  But that's OK too, and the total by day's end was running ahead of last LB's total.  Not spectacular, but plenty good enough.
Friday was also notable for the grading results here, which were almost entirely perfectly acceptable.  As stated here before, our objective is not to make goofy scores and get gift grades; we simply want realistic results that allow us to market coins on the website.  And that's what we got.
Saturday will be a day for cleaning up any loose ends, which we hope to do so in a very relaxed and calm manner without going absolutely berserk at the last second.
Wish us luck with that.
Post Mortem:
I have four things to say today:
I apologize for this being so late.  Frankly, I was exhausted after the show (but not too exhausted to go play golf over the weekend).
If you've clicked on this link in order to see what I had for breakfast Saturday, you're going to be disappointed.  This one is all (pretty much) business.
There is no three.
Actually, there is a three.  And it is that given the disquieting financial developments of the last several days, we thought it was important to discuss the state of business based on our observations and experiences in Long Beach, including the auctions, retail and wholesale activity.
So, without further ado, let's start typing:
By any reasonable observation, the high end of the market (defined as the guys playing not merely at high price points, but those who are knowledgeable and buying the most spectacular pieces) is stronger than it has ever been.
One need look no further than Goldberg's Naftzger offering to see what the most serious and well heeled collectors are willing to pay for what they consider to be (and I'm not going to argue with them) spectacular early copper. It may interest the reader to know that the guys bidding on these coins at these levels were not just some wide-eyed investor types, or Registry fanatics (though there may have been some of them too) – it was the highest end collectors AND the top copper dealers, in many cases the latter bidding on coins for their own collections.
That's all fine and dandy for those guys, but what about the rest of us?
We can't speak for everyone else, but in our own market segment, we didn't really observe anything any different than what we've seen over the last many months on the buying or selling side.
Choice pieces in most every series brought strong money on the floor and in the auctions, and there was no shortage of demand.
What there was was a shortage of nice coins to buy.  While this sounds like a broken record, it is an important indicator to watch.  In the coin crash of 1980-1982 , there were plenty of choice and rare coins to be had – it was the buyers that were scarce back then.
And what about generic gold?  We know a lot of dealers expected prices to soften in the pre-Long Beach auctions, but that didn't happen (and that was before gold shot up a record amount).  Plain Jane gold coins were selling at about bid levels, or slightly above.
Even the low-end stuff in auctions did just fine, and we should know – we consigned a bunch of it that we acquired as the unwanted part of some recent collections we bought.  When the dregs start weakening significantly, that is a bearish sign.
As for areas of concern, there are plenty.  Crappy economic news isn't good for any business, but in terms of tangible impact on coin prices and buyer behavior, we really didn't seen any changes
Of course that doesn't mean things won't change in the future, but the title of this installment of the RR is "The Long Beach Expo –  Post-Mortem", not "Fearless Predictions about the Future of the Coin Market".
Oh, and I had a blueberry muffin for breakfast.