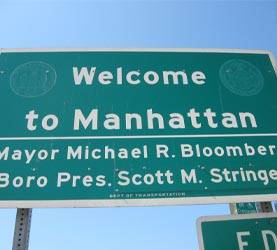 If I said to you that the New York Invitational Show would be held in Manhattan in a place called the 'Metropolitan Pavilion', what would you expect? Perhaps a grand ballroom? 30 foot ceilings, intricately carved columns and the requisite large ornate chandeliers? Not quite.
Metropolitan Pavilion turned out to be a non-descript office building in the middle of a block. In order to enter, you had to ring a doorbell and then stand out on the sidewalk and wait to be buzzed in by some unseen doorman, sort of like when you visit your Aunt Norma in Brooklyn. The show itself was on the 5th floor, accessible by a single elevator. So we're not exactly talking Baltimore Convention Center here. More of an intimate little setting, which was probably appropriate (or self-fulfilling), since we had an intimate little crowd.
40 tables or so, including a number of the national dealers plus some local NY people, and perhaps a couple of hundred visitors at the absolute most. A few sales were made from what I could tell, along with some dealer to dealer activity born as much from boredom as commercial opportunity. Perhaps not unexpected for a show in an off-the-beaten-track location on Wednesday – Friday. Actually, for us it was only until Thursday, as we opted to leave early after about 2 solid weeks on the road.
In all, we sold one significant coin and a few other cheapies, bought five coins at the show and met a couple of new contacts. Fun, but hardly a windfall.
Lest anyone conclude that this is just one more indication of a deflating market, we sure didn't see that at the Stack's or ANR auctions on Tuesday, Wednesday and Thursday.
We viewed lots at Stack's on Tuesday AM and then attended the session in the evening and watched a bunch of record prices in the colonial section:
Lot #79, an uncirculated St. Patrick Farthing, hammered to a phone bidder at $37,500, the highest price ever paid for the issue by a factor of three.
Lot #112, a rare brass Continental Dollar in PCGS XF40, went to a book bidder at $125,000 after trumping a floor bidder at $115,000.
Lot #116, what may be the finest known example of an uncommon Nova Constellatio variety (Crosby 4-C in uncirculated condition, for those scoring at home) hammered for $15,000, which I believe, but cannot be positive, was the highest price ever paid for any Nova Constellatio at public auction, ever.
Lot #134, an exquisite nearly uncirculated Vermont Brittania hammered for $9,500, another record for the issue.
But not every coin was a 'finest known' or great rarity, and most everything went quite strong in a session attended by a few dozen dealers, a couple of collectors and some vociferous (apparently) phone bidders. Of note also, Christine Karstedt of ANR was there throughout.
ANR on Thursday afternoon was more of the same, with some great coins going nuts and some mundane coins selling for what certainly seemed to be ultra-strong prices:
Several pieces of attractive, original but mid-grade Massachusetts silver coins went exceptionally strong. The coins were classy, but too well worn to receive the 'right' numerical grades to sell to the masses.

Lot #33, an attractive, original (though perhaps overgraded) PCGS AU58 Continental Dollar went strong at $57,500.

Lot #64, an attractive Bar Cent marred by a diagonal obverse scratch, went for a good number at $13,800.

Lot #155, a lovely and choice 1824 Large Cent, soared to $25,300.

Lot #846, a 1798 Bust Right Half Eagle, went for a healthy $25,875.

 Lot #893, a 1797 Bust Right Eagle in decent enough PCGS AU53 dramatically exceeded our estimate at $109,250.
And so it went – with lively bidding throughout on the sorts of coins we deal in. I can't speak to the other areas of the market as we did not follow them in detail.
As noted, we left Thursday evening since the show was pretty quiet and we decided that trying to escape from New York on Friday at rush hour was not particularly appealing.
Our next trip takes us to small regional show which will be the subject of our next report.