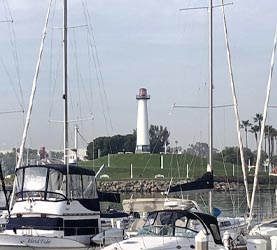 Prologue:
Greetings numismatist and welcome to this the first RR of the fall coin season, a calendar transition we will be celebrating by boarding an airplane and taking a quick 5 hour flight to SoCal for the LB Expo.
And we are expecting good things here now that dealers and collectors have digested their ANA activities and are ready to tackle the next wave of auctions and bourse floor activity with renewed enthusiasm.
Including us.  As we'll be active buyers on the bourse floor and in the auctions (including representing a number of different collectors, so if you need assistance please let us now ASAP), and enthusastic sellers from our totally new, never-before-seen and we-are-pretty-sure-you're-gonna-like-it show display.  Also, we plan to grade a veritable boatload of coins here.
The sum total of which will be described here in vivid detail with full color action photos in this spot each and every day that we're here.
So you might want to keep an eye out for that –
September 6th:  Day 1
It would be a busy start to the day on Wednesday as your author was up early to finalize and then submit the substantial pent-up CRO show grading before racing over to the Heritage room for a concentrated lot viewing session of the U.S. and world coin offerings.
Thank goodness I would not be doing currency as well, as I do not think I could possibly have viewed even one more item without going bug-eyed (and not in a good way) in a non-stop, high-speed, 2 and a half hour session.
But I got it all done, made my notes and still had time for a fast lunch at the hotel before racing back to the convention center at 11:55 to join the requisite queue of other dealers waiting for the show to erupt at noon.
And I erupted right with them, arriving at our table #612 right by the door and finding, to my delight, that the tables were arranged the way I wanted them and I could set up without any undue delay or furniture moving (though I did have to inelegantly sprawl on the floor to plug in my lights in a manner unbefitting a serious numismatist – not sure what the options are though unless we were to hire a professional sprawler and bring them to each show with us).
Anyway, we placed the last of our display trays artfully in the case by 12:10, clicked on the lights and declared CRO officially open for business before anyone else: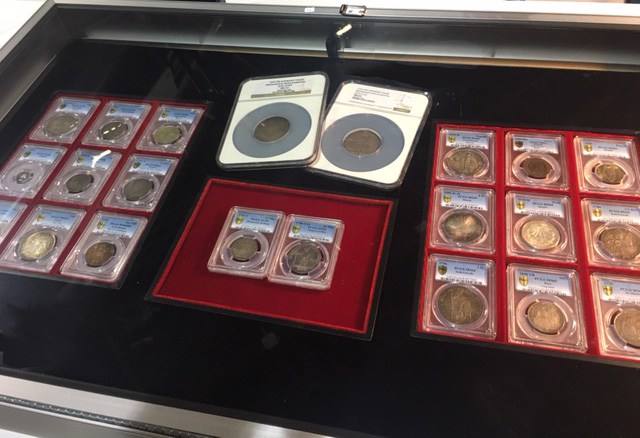 Which was important, since we started doing business immediately thereafter in what turned out to be an excellent set up day in which we sold more coins than I can recall on any recent Wednesday in Long Beach, with multiple dealers buying multiple coins in and around others snagging one each.
Proving once again that you never know what might happen at these shows, but it certainly does not hurt to get set up early, or to have a good table location were people can bump into you by accident as opposed to only being able to find you by looking you up in the show program and then passing lots of other tables and getting distracted on their way to see you. Trust me, we tried that other approach years ago and I do not recommend it.
And while there was no shortage of activity on the selling side, buying proved less fruitful, as your author found 5 U.S. coins on the floor, pondered a few others but did not find anything truly epic. Yet. That's likely to change over the next few days, however, as more dealers get set up, and collectors make their way to the show with coins to sell or trade.
In the meantime, having enjoyed a productive day at the show, we headed out to our usual table at our favorite restaurant for an excellent dinner with some dealer firends, some stimulating conversation and just enough drinking to induce Farran Zerbe Award winning numismatist Anthony Terranova to put a spoon on his nose during dessert: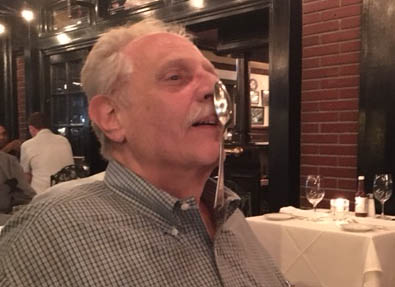 So of course we'll be looking to build on that fine start as we head into Thursday and the arrival of the public here in LB along with the first HA auctions sessions in the afternoon.
The results of all of which will be described right here on Friday AM.
Until then, then.
September 7th:  Day 2
Thursday here in California would begin abruptly at 2:41 AM when your author leaped out of bed, enthusiastically fired up the flimsy in-room coffee maker and then watched in horror as it shorted out and then started smoking like crazy.
First thought: I wonder if my computer and all of my auction catalogs and notes are about to be doused by the in-room sprinkler?
2nd thought: Wait a minute. Wouldn't that also set off the fire alarm and force me and all the other hotel guests to be evacuated at 3 AM?
Fortunately, I was able to get things under control before any of that other stuff happened, and then have the hotel staff come and get the offending appliance out of my room minutes later in an overly casual manner which suggested to me that this was not exactly an unusual occurance around here.
Anyway, after that I was free and clear to write yesterday's blog, track all of my Heritage target lots, enter bids and, eventually, call some east coast customers before finally meeting a dealer friend in the Hyatt lounge for a fine breakfast where none of the other diners had any idea how close they were to standing in the parking garage in their pajamas 5 hours earlier.
After which we headed over to the convention center for what we all hoped would be a good day at the show.
But that did not seem like it would be the case for CRO after a pretty slow early morning in which there were scant few visitors to the table but seemingly lots of traffic elsewhere in the room.
A script which flipped in a big way at about 11:30 with the start of a steady stream of local collector visitors to the table, many of whom bought a coin or sold us one (though mostly the former). Interestingly, several of said visitors were focused on the same few coins, where one guy would look at an item carefully, say he wanted to ponder it and then the next guy at the table would buy it.  And while that's not all that unusual at any show, it is when it happens three separate times with three different coins in a few hour period:

Which when added to our "regular" sales totaled another extreeeeemely productive day here in LB, well ahead of the pretty darn good pace we set here on our last visit in June.
With some pretty good buying too, including a neat run of US coins and a couple of cool colonials with that perfect golden brown color we always seek but seldom find.
And then heading out so I could eat dinner while simultaneously participating in the evening's Heritage auctions and watching the Chiefs run up and down the field every few minutes.
Finally calling it a night after my last late lot went off in what turned out to be a long, frustrating evening in which I was outbid on almost everything I targeted.  Which, at most auctions, is an indication that maybe I just did not want them enough and that was almost certainly the case this time. But tomorrow's auctions contain some things I am significantly more enthusiastic about, and so I'm pretty sure those results will be different.
You never know though, so I will be interested to see what happens there and on the bourse floor on Friday and then write all about all of it in this space in just about 24 hours from now.
EOM
September 8th:  Day 3
In a pleasant, drama-free morning, your author arrived calmly at the convention center, clicked on the lights at our table #612 and then began a more concerted effort to try to find cool coins.
Looking pretty much everywhere, visiting all the local guys, tables containing mostly raw coins, well known dealers from whom I've rarely found anything CRO-like, wholesale boxes being carted around the room, etc.  And, at first, our yield wasn't good.  But over time we found our coin-buying stride, snagging US and world coins from three consecutive dealer tables we hadn't visited before, finding a cool old-holdered Draped Bust Half Cent, a trio of toned old-holdered Morgans, some very original looking $2.5 Indians, another choice old-holdered Half Cent, a nice early Quarter and a bunch of other coins in various states of readiness to be marketed.
Then returned to the table to meet a long time customer and buy yet another old-holdered Half Cent in what by then had become a denominational theme of Friday's show.
Followed by the deal of the show (so far), as a serious collector offered us a group of long off the market colonials of exactly the sort we loooove to feature on the site.
Sales continued to be pretty good too, again in all categories, an experience shared by some of the other like-minded dealers situated near to us in the front part of the room.
What has not gone particularly well for us here are the auction results, in which we have continued to be nipped by one bid increment on many coins we targeted. Of course that might have been different if we had been following the auctions live, but given the myriad US and world sessions, the widely spaced lots in which we had an interest, the long list of other things we are trying to do here and the fact that CRO is a solo act this time, we didn't have much choice but to enter bids in advance and let the chips fall where they may. Unfortunately, they've mostly fallen on top of us this time.  Still have the internet sessions to go, though, so maybe things will improve before it's over.
In the meantime, we'll be back at it on Saturday hoping for some late show fireworks on the buying and selling side, and from the graders as everything we submitted here should be back by late afternoon.
In time for us to haul home on our late flight and then include in our next RR to be written from the comfort of home on Sunday AM.
September 9th:  Day 4
Now back in New England it's time to recap the just completed Long Beach Expo with a series of random observations presented in no particular order:
The prevailing opinion of like-minded dealers with whom I spoke was that this was a good show, better than most of us expected (and I personally expected it to be pretty good).
As noted in previous days, I really need to revise our auction process, since I am positive we would have bought more coins if we had been able to devote more time to it and steal away from the bourse floor at times to bid live.
I regret missing that dinner at the Thai restaurant with some dealer friends.
Based on our own experience and some concrete examples others showed to us, grading here was tighter than even the tightest drum. And while that is unhelpful, it's not like it makes or breaks our business model and we will of course be listing everything anyway.
We bought a lovely York Commem. in a P65 Green Label holder with a Gold sticker here. And while it was admittedly not as nice as the mega-toned raw example I saw and tried to buy in a set in the recent NH Centennial Auction and which re-appeared at this show in a PCGS MS69 slab, it was about $84,500 less expensive.  Not a typo, do not adjust your set.
Three times at the show I was told by other dealers to "Go check out table XYZ!" because they had the kinds of coins we like. In all three instances, we went to look and found a large offering of ancient coins of the sort we do not deal in at all. So, while we really appreciate any tip, it did occur to me that now, even after a decade and a half of a pretty consistent CRO offering, many of our close dealer friends really don't know what we actually do here. Still, we do hope the tips keep coming 'cause the next one might be the Holy Grail.
We are very pleased with our table location near the door at this show, but it becomes significantly less appealing when every one of the large tables at the very front of the room has been vacated by early Saturday (or even earlier) and anyone walking into the show after that is first greeted by a tumbleweed. Surely there is a better way to do this?
Our last sale of the show was a nice colonial at about 2 PM on Saturday. Our last purchase was a wildly toned Peace Dollar at about 3:30 PM, just before starting to pack up to head home. Though for the second consecutive LB show, we seriously pondered a cool 20K+ coin found late in the day Saturday, but just like last time we could not quite get ourselves to pull the trigger.
We quickly boxed up Saturday's NEWPs with our latest grading results and shipped them all out to our photographer from the bourse floor post office knowing that they probably won't get there in time to be imaged for the Early Bird, but felt like we had to try anyway.  And of course if they don't make this one, we'll get a jump on the next EB down the road.
The trip home was eerie, in a word, with your author watching horrific hurricane coverage for 5 straight hours on my in-flight TV flight while hoping that our many coin friends and colleagues in Florida make it through OK.  Our best wishes to all who are in Irma's path.
And now, after a brief rest, we'll start in on the aforementioned Early Bird scheduled for Tuesday at noon. And so, as we always say, you might want to keep an eye out for that.
The End