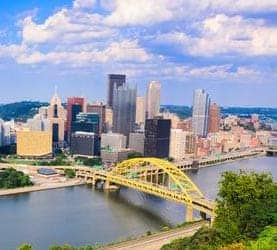 Prologue
Team CRO is super excited to be zipping off to Pittsburgh on Monday where we will immerse ourselves in numismatics immediately or even faster.
First for "Dealer Day" (an extra bonus day of ANA action for people who think a mere 5 day show is insufficient), then for as much pre-show, wholesale and impromptu activity as we can generate in hotel lobbies, various hallways or in coffee shops throughout the metropolitan area.
Then for the full-blown, official show starting Tuesday.
Continuing on thusly for the rest of the week during which we expect to see many old and new friends, pore through tons of cool coins, buy everything that seems like a CRO item, sell well, make some trades, get some grades and generally do as much business as is humanly possible.
All the while blogging all about all of it each and every day from the show.
Starting tomorrow –
August 7:  Day 1
Despite an ominous weather forecast which suggested our flight to Pittsburgh might be either delayed, cancelled or extreeeeemely bumpy, Team CRO arrived smoothly and as scheduled, retrieved our bags in no time flat, jumped in a waiting cab, endured a chatty driver and rolled into town at noon.
Where we were delighted to find that our room was available, so we ditched our bags, had a quick lunch in the lobby restaurant and then walked straight to the convention center so we could join the couple hundred dealers already there for "Dealer Day".
Something we signed up for because it would allow us to do some pre-business, but more importantly get our table organized and squared away without having to fight for lamps and cases during full blown dealer set up on Tuesday AM.  And that proved to be a genius level move, since we ended up needing a bunch of each (which is always the case at an ANA show) and got them in a matter of minutes.
Allowing us to set up quickly, click on said lights and immediately sell 5 US coins to a dealer who had been hovering over us (in a good way) waiting to see what we had.
Followed by a 5-figure colonial sale one might not have expected to make on this day.
At which time I took off and started scouring the floor for cool coins, finding a few interesting things, snagging anything that made sense, but not forcing the issue as there are always a gazillion opportunities at this show and we need to be ready for what comes later.
Returning to the table eventually, making a few more sales, dropping off some grading and then looking up to see that it was 5:30 and time to head out to the bar at the Westin with some dealer and collector friends before going out for an excellent dinner across town.
After which we hoofed it back in the rain in one of the very few times in my life I can ever recalling needing an umbrella AND actually having one with me at the time.
Proudly arriving back at the hotel completely dry and just in time to call it a night in anticipation of an extremely busy Tuesday which will start shockingly early and run late, late into the night.
With everything that happens to be described right here on Wednesday AM.
August 8:  Day 2
It was just like old times on Tuesday, as your author woke up at 2:22 AM to the sound of the TV in the next guy's room, tried to go back to sleep, failed miserably, eventually gave up and officially began my Tuesday here in Pittsburgh. Yay!
First by wrestling the flimsy in-room coffee maker into submission, then writing yesterday's blog in total darkness so as not to wake up MaryAnn, working on a few spreadsheets, answering email, updating the website and eventually heading down to the hotel gym where I encountered many coin circuit regulars who seem to operate on the same schedule that I do.
Then returning to the room just in time to turn on the complicated shower and blast water all over the place since unbeknownst to me the hand held shower nozzle was set in the "on" position and was helpfully aimed directly at the mirror.
Editor's note: This brought back fond memories of a trip to Austria years ago where I did the exact same thing, but there the water rocketed out with such astonishing velocity that it shattered the ornate light fixture, sent broken glass all over everything and resulted in my hotel bill including a line for übermäßiger schaden.  I'm really sorry about that.
So basically things could have been worse, I dried everything post haste, got dressed, headed down for breakfast and zipped over to the convention center walking outside on a pleasant morning.
Arriving to find a room teeming with activity, including at most of the tables which were already set up yesterday, but also with all the other dealers just arriving this morning.
Usually in those situations I like to start looking for cool coins right away, so I handed the case keys to MaryAnn, and instead of going to our own booth, I meandered around anywhere that seemed interesting. Immediately finding a few neat coins in the US and esoteric categories before finally making my way to our table #1323.
First order of business: Enlist the services of a tall dealer friend to hang the CRO banner in front of a crowd of enthusiastic onlookers as seen in this exciting action photo: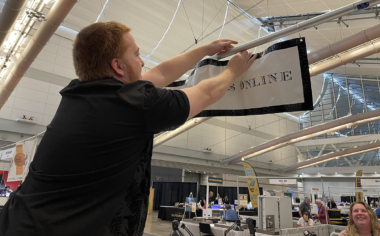 After which we dove directly into numismatic commerce, selling tons of coins at the table in all categories, buying neat things people walked up and offered us, delivering coins people ordered from us in the last few weeks, taking some cool coins on consignment and writing invoices pretty much non-stop all day long.
Interrupted only by an occasional call or text from a dealer friend to go check out a coin at another table, a quick foray to drop off or pick up some grading and a trip to the snack bar for a surprisingly delicious chicken sandwich.
Often finding an interesting coin or two as I walked around, once again illustrating the marvelous inefficiency of a coin show, where we specifically scout out certain deals, but also randomly bump into others that just happen to catch our eye.
Including our last deal of the day, the purchase of a wicked Trade $1 I last saw in a 2004 auction.
And then suddenly it was 6 PM, so we packed up and headed back the hotel, met some collector and dealer friends in the bar and then made our way over to an Italian restaurant across town where your author would rate the Arancini as an A-.
Arriving back at the hotel late, seeing some other collector friends in the lobby and finally calling it a night after what had by then been an action packed, high velocity, t-o-t-a-l-l-y productive 19 hour day.
And we'll be ready to do it all again on Wednesday (except for that part about the shower nozzle), and then blog all about all of it first thing on Thursday AM.
Until then, then –
August 9:  Day 3
Like a locomotive, Team CRO blasted into the convention center Wednesday morning and immediately dove back into ANA activities:
Ate some kind of biscuit thing for breakfast from the snack bar.
Bought a high end world coin of a type we have not owned before.
Sold two US coins to a long time customer.
Bought a neat group of US type coins in old holders destined for an upcoming EB.
Had an interesting exchange at the table when a long time customer asked "Hey, why do you have a 1999 Lincoln 1c in the case?".  And then a 2nd customer who just happened to be standing there looking at something else took note and immediately bought it.  As for the answer to the question, it was part of a recently acquired type set, was a 1999-D in MS69 RD and has a PCGS Price Guide value of $450.  Who knew? I did not.
Worked out a cash and trade deal for a Pine Tree Shilling.
Thought long and hard about buying another Pine Tree Shilling, but ultimately didn't do it.  I may regret that.
Met a customer who excitedly told me about his new purchase from another dealer which just happened to be a coin I jointly owned with said dealer.
Strongly considered but did NOT buy a neat Proof Seated Dollar.  I may regret that too.
Bought a choice CC mint half dollar.
Ended up with what are without a doubt the two best Pillar 4Rs in the room.  If anyone knows of another high end example, I sure hope they'll let us know.
Bought two architectural medals.
Sold two architectural medals (but not the same two).
Witnessed an interesting exchange between a nearby dealer and some of the young ANA pages working the bourse floor.  In this instance, a couple of the kids helped clean his 20+ bourse cases and when they finished he asked how much money they wanted.  The kids said they did not know.  So the dealer took the opportunity to explain that the kids needed to learn how to value their time, and asked how much their time was worth.  At which point a 10 year-old girl shouted "$1,000" indicating that she might have a bright future in this business.
Reviewed upcoming HA and SB auction lots with two different customers and talked auction bidding strategy.
Looked at the Tyrant Collection display.
Went through an entire group of mid-priced colonials and did not find a single one that I liked enough to put on the website.  Unfortunately that happens a lot, since we seek out examples with choice color, don't like coins with spots or flaws or edge bruises, avoid die breaks and cuds, want pieces that are well centered, etc.  Oh well, the search continues.
Bought two choice gold coins.
Had a piece of high end colonial currency reholdered, since when I acquired it had scotch tape on the seam which looked decidedly un-high end.
Wrote a last invoice at about 5:30 and then started to pack up.
Had dinner with some dealer friends at a highly rated restaurant across the river which turned out to be the worst place I've been to on the coin circuit since our famous "Kitchen Nightmares" meal in May of 2013.  Nice view though.
And we'll be back at it on Thursday, looking to buy, sell, trade and of course schmooze at table #1323.
August 10:  Day 4
On what was officially the start of the ANA back nine here in Pittsburgh (since we have now reached the halfway point of our six day escapade), Team CRO enjoyed an off day from the hotel gym on Thursday, slept in until the luxurious hour of 6 AM and then awoke to some relaxing blog writing, email answering, inventory entering and website updating before eventually heading over to the convention center at about 8:45.
Where your author immediately got breakfast and then returned to the table just as another dealer sat down to view coins and offer us others in what tuned out to be the most recent illustration of an ironclad numismatic truism:
Any time you buy hot food on a bourse floor, someone will immediately need your undivided attention for the exact duration necessary to cool whatever it is you are eating to just below room temperature.
Except in this case, when I said I am going to eat this first.  So the guy sat there and watched me eat a breakfast sandwich, asked if I was going to put ketchup on it, asked how good it was, asked where I got it and generally freaked me out until it was gone.  At least it was hot though.
And it was all worthwhile, since he then bought a coin adding one more check and one more invoice to our robust show total which is almost but not quite bursting out of our back case.
A trend which would continue on a productive Thursday during which we bought a bunch more coins in the US and World Coins Used in Early America categories while selling coins in the US and Esoteric categories, including our memorable Marmaduke medal: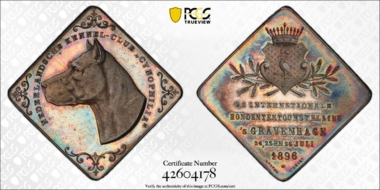 That was an item last sold by us a couple years ago and then taken back in trade last week.  Making this a topical time to remind our readers that we regularly take trades or partial trades toward coins on the website, so if you have something that is no longer part of your current collecting interests it could be a good vehicle to help you acquire something that is.
With action at the table continuing nicely into the midafternoon when a contingent of world dealers descended on the table and bought a coin I had placed in the case not 11 minutes earlier.  I guess that was random chance?  Either that or someone got the word out with amazing efficiency.
Then we looked up to see a large crowd forming across the aisle at Witter Coins' table as they were constructing a tower of CACG slabs for some kind of durability testing / marketing bonanza: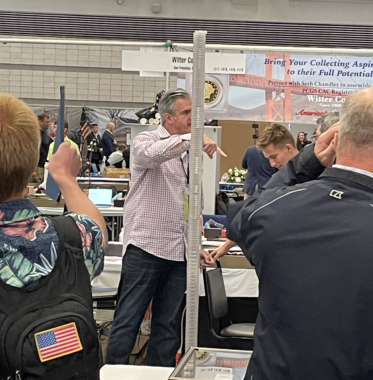 And since they had an aluminum baseball bat handy I figured they were about to launch plastic shards directly at our table #1323, but ended up gently tapping the tower until it dumped everywhere.  If anyone has any questions about this please do not ask me – I have no idea.
After which we reviewed more upcoming auction lots with another collector seeking representation, took some cool coins on consignment and made one last sale at the table before packing up so I could head to the William Penn Hotel for a drink with some collector and dealer friends while MaryAnn attended a Women of Numismatics meeting at the Westin.
Before we met up again and headed out to a fantastic restaurant across town with some coin friends where we enjoyed the best cooked carrots I've ever had (and I do not even like cooked carrots) and our faith in the Pittsburgh restaurant scene was restored.
Returning to the hotel very late and collapsing after another excellent day here at the ANA.
More later –
August 11:  Day 5
One of the interesting things about a long show like the ANA is that we often see waves of visitors who come in at different times, stay for a day or two, then leave as others are just arriving.
Such as on Friday morning, when some collectors we had not seen before this week came to the table, sold us coins, did some trades and bought coins in the colonial, world and US categories.
Making for an excellent start to a day which turned out to be extreeeeemely busy for us against a backdrop of some other dealers already packing up and leaving before noon.
I know this because I passed a bunch of them wheeling suitcases out on my way back from some last quick lot viewing for customers.
But we are here for the duration and glad we are, since we ended up buying some great coins during the day, selling 21 more coins and turning a good ANA into an excellent one for us.
More so considering the consignment deals we got based on the good results we had achieved on other consignments for friends of these collectors.  A virtuous circle of activity and a win-win (or possibly a win-win-win) that helps keep the flow of fresh new coins flowing to the website.
And we need it at this point, since the current inventory list has been decimated by the action here in Pittsburgh.
But we'll be back to full strength soon based on purchases here, the aforementioned consignments and including anything else we acquire in the 527 colonial, US and world auctions which immediately follow this show.
Not to mention any last, late deals we can make on Saturday here at the ANA of which I fully expect there will be some good ones.
And if there are, or even if there aren't, we will recap all of it in our last RR from this show posted from the comfort of home on Sunday AM.
EOM
August 12:  Day 6
Let's recap the just-completed Pittsburgh ANA through another of our patented series of random observations starting right now:
As we were getting organized and packing up late Saturday, I could barely recall some of the transactions we had done way back on Monday – but there were the invoices and checks proving that they did, in fact, actually happen.  Still, that may be an indication that a show is just sliiiiightly too long.
As a venue, I think Pittsburgh is really pretty good, with a convenient, connected show hotel, lots of good restaurants nearby and access to the stadiums just down the road of which many attendees availed themselves.  And of course as documented here some of the restaurants were horrendous, but we'll know to avoid those next time we're in town.
MaryAnn scoured the bourse floor for an ancient Greek coin from her ancestral island of Lesbos, snagging a beautiful example on Friday.
A dealer came by at the end of the show, asked to see our NEWPs and wanted to take several of them on memo since he thought he might have a customer for them back home.  We would always consider that for coins we've had for a while, but of course never, ever, ever on the new things destined for upcoming EBs.
I was extremely disappointed that the exercise bike at our hotel gym was broken.
The number of young collectors and dealers on the bourse floor is kind of astonishing (especially given the lack of same 5-10 years ago at these shows) and is of course great to see.  We were also pleased to do business (buying and selling) with many of them who were all unfailingly polite and very impressive.
I would like someone to explain to me why the Westin Hotel here felt the need to reinvent the tried and true elevator model by placing their floor selector buttons only in the waiting area outside.  It's kinda disconcerting to have no buttons at all and thus no control once you are trapped in that steel box.
We passed on two coins early in the show that we regret, but more than made up for it with 50-something other new coins acquired here.
Of course it is petty, but nothing is more satisfying to a dealer than when a guy comes to the table multiple times to look at the same coin, complains about the price, makes low counter offers and ultimately passes, and then another guy walks up and buys it instantly.  That happened twice here.
It strikes me as somewhat odd when collectors are more excited about upcoming auction lots than they are about cool coins on the floor. I get it for special coins that are otherwise unavailable, but many auction lots that people asked me to look at for them were not in that category.
That Pork Tostada thing from the convention center snack bar was surprisingly delicious.
We just barely made it out of town late Saturday, as thunderstorms delayed our flight a few hours and for a few moments there I seriously considered cancelling, rescheduling for Sunday, and booking an airport hotel for the night.  The only thing that stopped me was when the gate agent told me it would take 2-3 hours to get our luggage back, so we stuck it out and were glad we did, eventually getting home at midnight.
While it would be great to use the next week to methodically organize the paperwork, pick up the boxes that came in while we were gone, sort the NEWPs, ships coins out, etc, it's going to be a challenge to do all that while also bidding in the many SB and HA auctions this week.  We'll figure it out though – we always do.
One thing is for sure though – our next EB will not be until after we get through all of that, so we'll post the date of the next one in a website header message as always.
So you might want to keep an eye out for that –