"Nelson-17", the discovery coin of a previously unknown, unseen variety in this series.  Unique.
An interesting issue discovered by your author in a UK auction online photo where it was mis-described as a common Nelson-4, the known variety with which it is most similar, and shares a reverse.  So of course I entered a monster bid and then waited on pins and needles through the live session hoping no one else would notice it as something special.  Fortunately, they did not, and your author was able to buy it as a common coin.
Interestingly, upon receiving this coin from the auction house a few weeks later I noted that the prior owner who had consigned it to that sale also recognized this as something different and special and had actually indicated on his collector envelope 3 differences between this coin and said Nelson-4.  Alas, the auction cataloger had either disregarded or missed those notes.
With the coin in hand, your author identified a total of 9 differences as enumerated on this comparison image: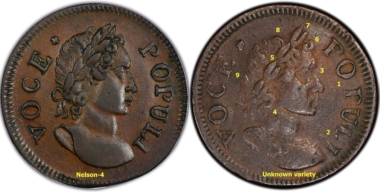 The spacing of the letters in POPULI is quite different, with a diagnostic wide space between the O and second P.
A second wide space exists between L and I.
The bridge of the nose is flat and not bowed as on Nelson-4.
The lowest lock of hair curls in a counter-clockwise direction, while the lowest lock of hair on Nelson-4 curls clockwise.
This piece has 4 sets of leaves in the hair braid; Nelson-4 has 5 sets of leaves.
The hair curl at the top of the forehead on this variety extends up, while the curl in this spot on Nelson-4 extends back into the hair.
The topmost pair of leaves is much longer and extends higher on this piece than on Nelson-4.
This variety has no hair curl at the top of the head, Nelson-4 does.
The E in VOCE is much further from the top of the head on this variety than it is on Nelson-4.
In addition, the shape of the head and the dimensions of the legends, and their position relative to the denticles also seems different.
Prior to the discovery of this piece, Nelson-16 was the rarest of the Voce Populi ½p varieties, with six examples known.  Making this new variety the rarest in the series by a considerable margin.
The piece itself is a mahogany brown XF with a few hits and scattered marks, all indicating it had a long life in commerce or non-numismatic circles before being set aside and recognized for what it is:  One of just a small handful of unique items in the entire US colonial series, and a piece which rightly belongs in the finest cabinet.
This coin is from the CRO archives and is not currently available for sale.