Newcomb-5 variety, Italic 5 type.  Considered to be Rarity-5-.
A striking Choice Proof with cool and unusual golden brown, blue and rose tones which come alive when twirled in the light: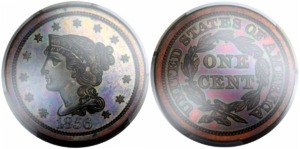 Ex Superior's October 1991 sale, lot #652.
Note that this coin has been verified by CAC with a Gold sticker indicating that it exceeds their standards for this grade level.
$8,500
To order or inquire about this item, call us at 1-800-Coins-99 or email us at John@CoinRaritiesOnline.com or complete the form at the bottom of this page.