A classic proof with nice surfaces, hard mirrors, some cameo contrast on the devices and a dash of colorful rim toning best seen in the PCGS TrueView photos: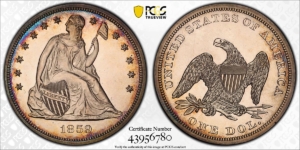 Quite pleasing overall, and in our view more eye appealing than the few CAC pieces offered at auction in recent years.
Note that this coin has been verified by CAC.
$5,850
To order or inquire about this item, call us at 1-800-Coins-99 or email us at John@CoinRaritiesOnline.com or complete the form at the bottom of this page.