A charming, original, blue, green and golden toned example of a type that is most often seen blast white.  And while this one is neatly toned, it proved a challenge to photograph, so we have added these diffuse light shots to try to give a more complete sense of the coin's appearance in hand: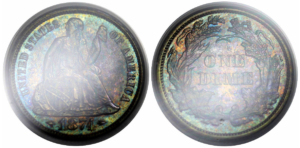 Note that this coin has been verified by CAC.
$975
To order or inquire about this item, call us at 1-800-Coins-99 or email us at Info@CoinRaritiesOnline.com or complete the form at the bottom of this page.