Hoydonck-168, Weiss BW261 variety.  60mm.
Depicting the Spanish Cathedral at Cordoba, with its famous arcade columns of jasper, marble, granite and porphyry made from pieces of the Roman temple that had occupied the site earlier: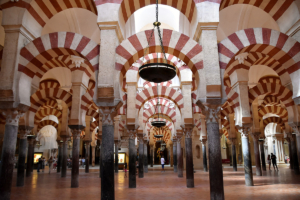 And while we have owned a few other Wiener medals in this lofty grade, this spectacular chocolate brown über-gem is the single finest example we have ever owned (or seen, actually) of any piece in this series.
$1,250
To order or inquire about this item, call us at 1-800-Coins-99 or email us at John@CoinRaritiesOnline.com or complete the form at the bottom of this page.